Alfa Laval Decanter Centrifuge
Decanter Centrifuge – What is it?
A decanter centrifuge is a heavy duty, industrial separating machine. It separates solids from one or two liquids using centrifugal force. Solid particles need to have higher density than the liquid for a decanter centrifuge to work. Stoke's law determines the separation efficiency.
How Does a Decanter Centrifuge Work?
A decanter centrifuge works by accelerating the settling of the solids out of the liquid in a slurry.
Slurry
is fed
into the machine through an axial feed tube which injects it into the conveyor. The slurry strikes against an accelerator in the conveyor feed zone. This accelerates the flow outward, through the feed ports into the bowl forming a 'pond'.
The solids, being of higher density, displace the liquid and settle to the wall of the bowl.
The solids are
continuously
scrolled by the conveyor, up the angled conical end (beach)
. They are pushed out through 360° solids discharge ports located at the rear end of the bowl.
The clarified liquid rises to the surface of the pond and flows over the dams located in the front bowl hub. At this point the liquid discharges from the bowl.
Types of Decanter Centrifuges
Decanter centrifuges are available in 2 configurations, namely 2-phase decanters and 3-phase decanters.
2 Phase Decanter 
2 Phase decanters separate solids from liquid. In other words, it separates the fed slurry into a solid phase and one liquid phase.
This 2-phase decanter design is applicable in most de-sludging applications. These include industrial sludge thickening, municipal wastewater, hemp biomass separation etc.
3 Phase Decanter aka Tricanter
3 Phase decanters separate solids from 2 immiscible liquids.
This means that a 3-phase decanter centrifuge produces a solid phase and 2 separate liquid phases
.
For example, 3-phase decanters separate crude oil from tank bottom sludge and water. Olive oil separation from water and biomass is another application.
Decanter Centrifuge – Generic Specifications
The following table lists some of the important technical specifications of decanter centrifuge. Of course, each manufacturer has a slightly differentiated specification. In general, high quality, decanter centrifuges have similar properties.
| | |
| --- | --- |
| Material of Construction (MOC) | 316L Stainless Steel (established, high quality brands) |
| Max. Bowl RPM | 2,000 ~ 6,500 |
| Bowl Diameter | 6" to 60"+ |
| G-Force (Centrifugal Force) | 4500 G's Max. |
| Particle Size Separation Range | 50 µm to 1/2" |
| Processing Capacity | 5 GPM to over 1,500 GPM |
| Drive Power | 5 HP to Over 150 HP |
| Size (Footprint) | 2' x 4' to 8' x 15' |
| Differential Speed | 1 ~ 25 RPM |
| Gearbox Type | Planetary Gearbox; 1 kN-M to 3.5 kN-M Torque |
Decanter Centrifuge – Sizes & Capacities
Prospective buyers should consider the some important aspects listed below.
Manufacturers
There are many decanter centrifuge manufacturers worldwide. Yet, it is important to consider the origin and legacy of the manufacturer.
Specially
given the initial cost and sophistication of these machines.
Long term durability and field experience has proven the reliability and longevity of a few brands
.
Alfa Laval is the top quality manufacturer in centrifuges for over 100 years! Alfa Laval decanters are a 'name brand' among centrifuges. It is not uncommon to see these decanter centrifuges last 50+ years.
Price
Decanter centrifuges are considered capital equipment based on their expected operating life and durability. Decanter centrifuge price depends on the manufacturer and size/capacity.
A new decanter centrifuge (from a quality, established manufacturer) starts from around $50K for a small capacity decanter to over $500K for a large capacity machine. Accessories such as explosion proof upgrades, control systems, pumps etc. are optional and add to cost.
Re-manufactured decanter centrifuge price ranges from 40% to 60% compared to new decanters of similar capacity. 
Operating Costs
Decanter centrifuge operating costs can categorized as follows.
The only power consuming component of a decanter centrifuge are the motors. Consider the following example:
Capacity of decanter centrifuge: 5 GPM
Volume processed per hour: 300 Gallons
Cost per gallon processed: 25 / 300 = 0.08 ¢
This is an important consideration for the longer term operating costs.
For 'no-name' decanters, the buyer is wholly dependent on the single source manufacturer overseas
. Stock, availability & part cost are important considerations for critical equipment.
On the other hand
, generic spare parts are
easily
available for established, brand name manufacturers
. The manufacturers themselves have parts stock worldwide, for quick delivery.
Decanter centrifuges are continuous processing, self-contained machines. There are no operating labor costs involved. Labor is only required during service and maintenance.
Certain applications need chemicals to aid separation through decanter centrifuges. This is an extra cost that the buyer should be aware of.
Decanters from high quality manufacturers are generally very reliable.
As long as the user maintains them per the manufacture's recommendation, they provide reliable service
.
Ongoing decanter maintenance involves periodic gear-box oil change and bearing lubrication. Major service involving bearing replacement is every few years, depending on application.
Applications involving abrasive solids such as drilling mud, will need conveyor rebuild based on wear rate
.
Decanter Centrifuge – New versus Remanufactured
New decanter centrifuges from branded manufacturers like Alfa Laval are the first choice. But given the cost of new decanters buyers often seek remanufactured decanters.
Important considerations before buying a remanufactured decanter centrifuge
Manufacturer of original decanter centrifuge

Credentials & experience of the remanufactuer
Previous use of decanter
Wear status of decanter bowl and conveyor
Parts used in the rebuild – especially bearings
Balancing of major rotating components
Vibration check of complete testing of decanter centrifuge assembly per OEM specifications
Decanter Centrifuge Applications
Decanter centrifuges are primarily used for separation of liquids from high amounts of solids. In real terms, they can separate over 50% (v/v) solids from liquids on a continuous basis. Decanter centrifuges can produce up to 4000 g's of centrifugal force which is sufficient to separate particles down to 50µ on continuous basis.
Following are some of the applications we have supplied decanter centrifuges for:
Waste Oil De-Sludging
Industrial Wastewater
Municipal Sludge Dewatering
Fish Meal Stick-water
WVO De-Sludging
Paint Industry Wastewater
Rendering Plants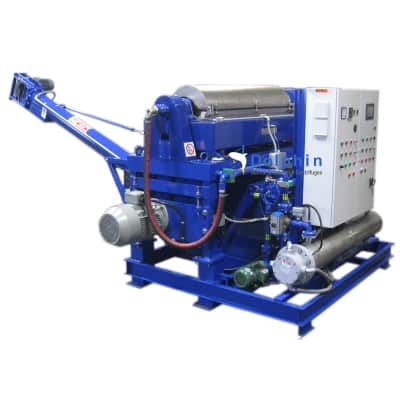 Remanufactured Decanter Centrifuge from Dolphin 
Dolphin Centrifuge has been re-manufacturing Alfa Laval decanter centrifuges for over 30 years. We have similar experience with Sharples decanter centrifuges.
Our decanter centrifuge re-manufacturing process follows OEM guidelines. We
strictly
adhere to all the remanufactured decanter considerations listed above.
We have a stock of over 50 Decanters at our factory in Warren, MI. Our stock decanters are
carefully
selected based on their previous use.
We stock
gently
used decanters from olive oil or other similar benign previous applications
. We do not stock decanters from drilling mud or other abrasive applications.