Alfa Laval Decanter Centrifuge
Decanter Centrifuge Applications
Decanter centrifuge is also known as horizontal bowl centrifuge, solid bowl centrifuge, centrifugal decanter or simply a decanter machine.
They are primarily used for separation of liquids from high amounts of solids. In real terms means they can separate over 50% (v/v) solids from liquids on a continuous basis. Decanter centrifuges can produce up to 4000 g's of centrifugal force which is sufficient to separate particles down to 50µ on continuous basis.
Typical decanter centrifuge applications include:
Crude Oil Tank Bottoms
Oilfield Drilling Mud 
Waste Oil De-Sludging
Hemp Biomass Solvent Extraction
Industrial Wastewater
Municipal Sludge Dewatering
Fish Meal Stick-water
WVO De-Sludging
Paint Industry Wastewater
Rendering Plants
Decanter Centrifuge Operation
A decanter centrifuge separates solids from one or two liquid phases in one single continuous process. This is done using centrifugal forces that can be up to 4000 times  force of gravity. When subject to such forces, the denser solid particles are pressed outwards against the rotating bowl wall, while the less dense liquid phase forms a concentric inner layer. Different dam plates are used to vary the depth of the liquid or 'the pond' – as required.
The the screw conveyor, which rotates at a fraction of the bowl speed, continuously pushed the separated solids towards the solids end.  As a result, the solids are gradually "ploughed" out of the pond and up the conical "beach". The centrifugal force compacts the solids and expels the surplus liquid. The dried solids are continuously discharged from the bowl.
The clarified liquid phase or phases overflow the dam plates located at the opposite end of the bowl.
It is worth noting that the clarified fluid may still contain finer solids (< 50µ size) which can be removed by processing the decanter effluent fluid through a 'self-cleaning', high-speed industrial centrifuge for polishing.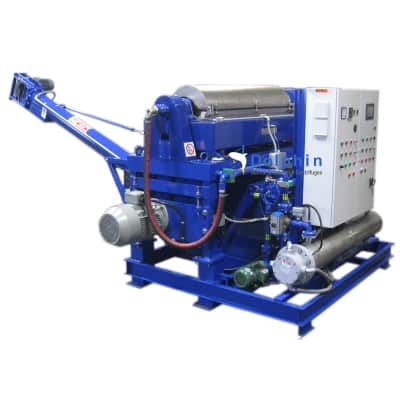 Why Dolphin Centrifuge?
Dolphin Centrifuge has been dealing with Alfa Laval & Sharples decanters for over 30 years. We have an active stock of over 50 Decanters at our factory in Warren, MI. We have in-house capability to design and build complete modular decanter centrifuge packages including Control Systems, Fluid tanks, Pumps, Sludge Augers, Feed & Return Pumps etc.
As part of decanter rebuild process, we routinely apply tungsten carbide hard-surfacing to the conveyor, install carbide tiles, install stellite sludge-port liners etc.  Optional accessories such as VFD back-drives are available for auger speed control, over-torque sensors, Pillow-block temperature sensors, Main-drive / back-drive interlocks, Main-drive current monitors are routinely installed based on customer specifications.
Our current Alfa Laval stock includes: Alfa Laval NX418 2-phase; Alfa Laval NX418 3-phase; Alfa Laval NX314 2-phase; Alfa Laval NX309 3-phase decanter centrifuges.
We also have: Sharples P660; Sharples P3000; Sharples P3400 and Sharples P5000 Decanter centrifuges for sale. Click on the images below to see our decanter centrifuge applications catalog. You may also see our Dolphin Centrifuge supplied decanter centrifuge gallery here.