Table of Contents
---
An Alfa Laval centrifugal separator is a mechanical device that leverages high centrifugal force to separate liquids from solids. This separating machine's design allows it to separate large volumes of fluids from sludge continuously. These centrifugal separators find various applications in all industries that use fluids.
Working Principle

The working principle of an Alfa Laval centrifugal separator is the gravitational force up to 12,000 Gs within bowls rotating at 10,000 RPM. This force separates particles as small as 1 micron from fluids such as oil and water. A flow-through design enables the continuous flow of the separated fluids and solids through discrete outlets.
For example, the effluent from a mining operation is mainly water contaminated with soil and sand particles. The mine operator could reuse this water if there were a reliable way to separate the soil and sand particles.
Conventional filters and other media separation devices are unsuitable for this kind of high volume, small particle size separation application. The fine particles will clog the filter media quickly, requiring frequent media replacement.
The cost and labor involved in this process eliminate filtration as a possible solution.
A high-efficiency Alfa Laval centrifugal separator will continuously separate the sediment from the water. With a rated efficiency of 0.5-micron particle separation, the centrifugal filtration machine is ideal for this application.
The clarified water produced by the centrifuge is clear and reusable.
Efficiency
The efficiency of Alfa Laval separators is calculated based on the properties of the fluid being processed, the type and size of solids, and the centrifugal force generated by the centrifuge.
The centrifugal force exerted by the disc-stack separator is much higher than that of the decanter type separator leading to higher separation efficiencies. The efficiency chart above shows the effective efficiency of each of these Alfa Laval separators.
Particle Size Efficiency
The following table lists the particle size efficiency of typical Alfa Laval centrifugal separators.
| | | |
| --- | --- | --- |
| | Decanter Separator | Disc-Stack Separator |
| Min. Particle Size | ~ 50 Microns (µM) | ~ 0.5 Microns (µM) |
| Max. Particle Size | ~ 10 mm | ~ 250 Microns (µM) |
Application Examples
Alfa Laval centrifugal separators find a wide range of applications with their ability to separate solids from liquids and liquids from other liquids. The following list highlights some of the typical industrial applications of centrifugal separators.
Biofuels
Biofuels are the new generation of fuels produced using renewable sources. Biodiesel is one such fuel that is a direct replacement for diesel fuel. The tri-esterification of used vegetable oil produces biodiesel. Alfa Laval centrifugal separators separate the biodiesel from glycerin during this process.
Ethanol produced from corn is blended with gasoline to produce E85 fuel used in gasoline engines. Alfa Laval decanters are mechanical separators that separate corn mush from ethanol.
Algae oil is the upcoming biofuel. Again, the harvesting of algae cells from water is through the use of Alfa Laval disc-stack separators. Alfa Laval separators also separate the water from algae oil which is then used to produce biodiesel.
Chemicals
The chemical industry often needs to separate immiscible fluids. Gravity settling is not a feasible option due to time constraints. An Alfa Laval centrifuge exerts a centrifugal force that is several thousand times the force of gravity.
This force causes instant separation of the liquid chemical phases that are essential for high-efficiency, continuous separation.
Chemical precipitation requires separating the solid (precipitate) phase from the liquid broth. The small particle sizes prevent the use of filters for this process.
An Alfa Laval liquid-solid clarifying separator uses high centrifugal force to separate the smallest particles from the fluid to produce the thickened precipitate.
Environmental
Environmental pollution is primarily the result of water contamination. Contaminated water is also known as wastewater. Separating the contaminants from wastewater can often lead to the recovery of usable water while reducing environmental impacts.
Alfa Laval decanter separators can process large volumes of wastewater to separate and thicken the sludge.
Waste oil is another environmental issue that is apt for centrifugal separator processing. Water and sludge contaminate waste oil. Alfa Laval disc-stack centrifuges exert over 7,000 Gs of centrifugal force to continuously separate the water and sludge from waste oil.
The clean oil produced by centrifugal machines is the feedstock for lubricating oil re-blending.
Food Industry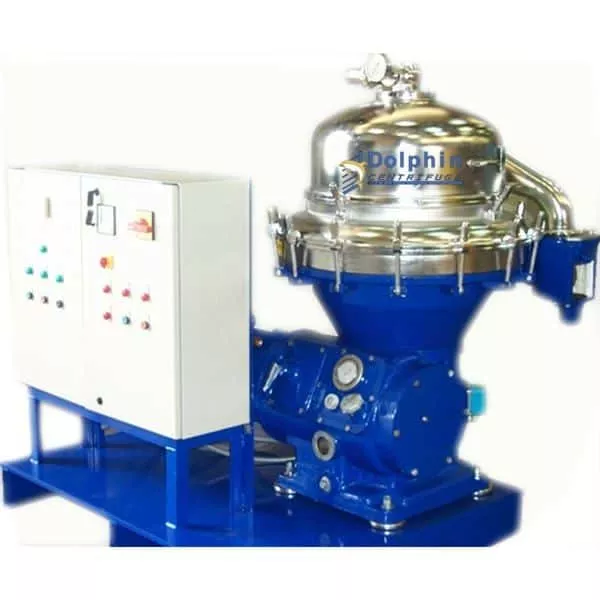 The food processing industry is a big user of Alfa Laval centrifugal separators. The beverage industry, i.e., beer and wine, uses centrifugal separators to clarify yeast and must, respectively.
Animal fat rendering related to the cattle industry separates the animal fat from process water using Alfa Laval fat rendering centrifuges.
Frier oil clarification uses centrifugal separators in a wide range of the fried foods industry.
Standardization of milk occurs through the regulated separation of milk fat from fresh milk through Alfa Laval milk separators. The separated fat is then re-introduced into the milk to produce set fat level milk.
Palm oil separation from the palm fruit pulp, the separation of orange juice from the orange pulp, and various other juice separation applications are examples of centrifugal separation in the food industry.
Fuel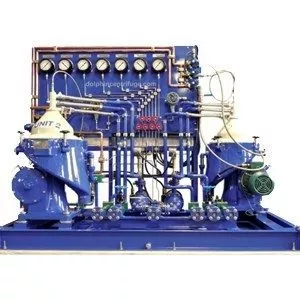 Alfa Laval centrifugal separators are the most common type of separation device used to purify fuels. Stored diesel gets contaminated with water from condensation and sludge from storage tanks.
A centrifugal separator easily separates the water and sludge to ensure access to clean diesel for emergency generators.
All ocean-faring ships use fuel oil or bunker fuel as the primary fuel for their engines. Sludge and water are common contaminants based on the source of the fuel oil. These contaminants can cause premature engine failures and service interruptions.
Alfa Laval fuel oil separators feature unique designs for efficiently separating fuel oil from sludge and water.
Aviation fuel has a similar problem related to condensed moisture. Large volumes of aviation fuel are routinely separated from water and fine particulate matter using an Alfa Laval centrifugal machine.
Industrial Fluids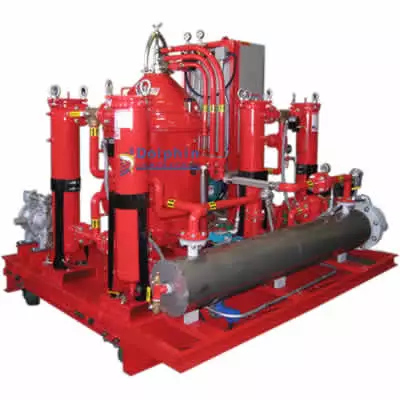 Industrial fluids cover a wide range of fluids used in the manufacturing industry. Machining coolants are one of the most common fluids in the metalworking industry. Tramp oil is a common contaminant in water-based machining coolants.
The separation of tramp oil is essential before the reuse of machining coolants. Alfa Laval coolant separators offer a robust and continuous method to separate tramp oil using centrifugal forces.
Machining oils such as cutting oil, quenching oil, drawing oil, and rolling oil have metal debris as solid contaminants. Centrifugal separation machines from Alfa Laval offer a quick and cost-efficient way to recover machining oils.
Lubricants
Lubricating oils used in engines and turbines need to be clean for engines and turbines' reliable performance. Engine oil accumulates metal particles that affect engine performance. A disc-stack type separator removes these tiny particles to ensure reliable engine operation.
Steam turbines are an essential component of electric power generation systems. Steam condensation introduces water as a contaminant in the turbine oil, and water deteriorates the lube oil's lubricating properties.
A high-speed centrifugal separator can simultaneously separate the water and sediment from the turbine lube oil.
Petroleum
The petroleum or crude oil industry faces salt-water and sludge contaminants at every stage of crude oil production. The volume of crude oil requires continuous separation machinery to ensure clean crude oil production for refineries.
Alfa Laval crude oil separators are robust separation machines that continuously de-sludge and de-water the crude oil.
From refinery slop oil to crude oil tank bottoms, Alfa Laval centrifuges are an essential piece of equipment that handles all types of fluid streams.
Pharmaceutical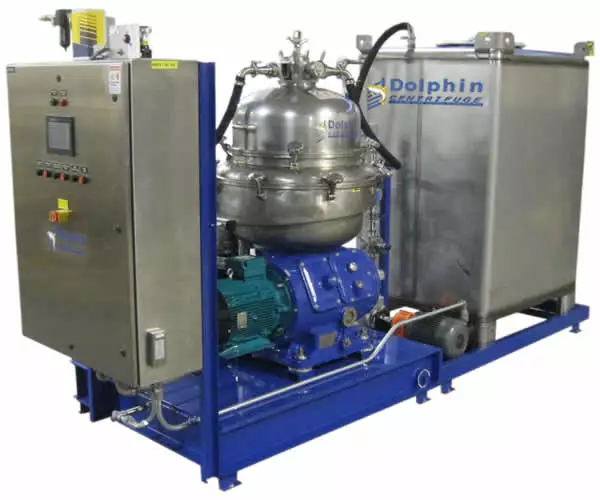 The pharma industry uses sanitary Alfa Laval separators to harvest broth cell cultures. Specifically designed biotechnology centrifuges from Alfa Laval are an essential part of any pharmaceutical process, from vaccine development to drug ingredient production.
Sanitary centrifuges with CIP (Clean-In-Place) features have all stainless steel fluid contact parts designed to discourage bacterial growth.
Advantages
Alfa Laval centrifugal separators offer a range of advantages over conventional filtration and gravity-based separation systems. Some of the advantages are listed below.
Continuous Processing
Filtration and other media-based separation equipment require periodic media replacement once the media saturates with solids. A centrifugal separator has a 'self-ejection' feature that ejects out the separated solids intermittently.
Thus, there is no need for a stoppage related to media replacement with industrial filtration, allowing for continuous processing.
Minimum Labor
Since all Alfa Laval centrifugal separators have sludge ejection as a built-in feature, this eliminates labor related to filter media replacement. The automation of these centrifugal separators makes these separation machines highly desirable for continuous, reliable production requirements.
Low Operating Cost
Alfa Laval centrifugal separators eliminate the cost of filter media and associated labor to replace the same. The only cost related to these centrifugal machines is the power required to drive the electric motor.
Therefore, centrifugal separators offer tremendous savings in operating costs.
High Separation Efficiency
As previously mentioned, the centrifugal separator affects the separation using centrifugal forces that are thousands of magnitudes than gravity. The separation efficiency thus created allows these devices to separate particles down to 0.5-micron level.
In comparison, a filter with such a low particle separation rating will saturate quickly, requiring frequent replacement making filtration not feasible for such applications.
Compact Size
A centrifugal separator, by design, amplifies the force of gravity several folds. And in the case of disc-stack separators, the discs, in conjunction with the high centrifugal force, are equivalent to several football fields' settling areas.
This amplification of separation effectiveness results in the centrifugal separator size being minimized for high throughput flow rates.
Disadvantages
Alfa Laval centrifugal separators have some inherent disadvantages as compared to other separation technologies. The following are some of the main drawbacks.
Capital Cost
Compared to API gravity separators or static filters, Alfa Laval centrifugal separators are capital intensive. Though the initial cost pays back quickly, the investment is a drawback.
Long Lead Times
Unlike filters or other low-technology separation devices, centrifugal separators from Alfa Laval have a longer lead time. The delivery period depends on the complexity of the separator system but can be in the 2 to 8 months or longer period.
System Sophistication
Centrifugal separation systems, in general, have precisely balanced bowls and other components with high tolerances. These separators are more sophisticated than static separation systems such as gravity tanks, filters, or API separators. More complexity of the equipment implies regular maintenance and trained operators.
Control Systems
Automatic control systems are a part of a centrifugal separator system. The primary purpose of the control system is for speed monitoring and operational sequence, as in the case of disc stack centrifuges or decanter centrifuges.
This requirement of control systems adds to the initial cost and operational complexity.
Mechanical Separation (Not Absolute Separation)
Unlike filters or filter presses, centrifugal separators use the amplified force of gravity to affect the separation of liquids and solids. Therefore, these separators are mechanical in nature, meaning they do not offer absolute separation to a specific particle grade.
Types of Centrifugal Separators
Alfa Laval centrifugal separators are categorized as decanters and disc-stack separators. The following is a brief description of each of these separators.
Alfa Laval decanters are horizontal separators that generate around 3,000 Gs of centrifugal force. These separators have an internal auger (conveyor) that rotates at a differential speed to the bowl.
Decanter Centrifuge Operation
The centrifugal force causes sedimentation of the sludge along the bowl wall. The rotating auger pushes this separated sludge towards and out of the sludge discharge ports.

The lighter fluid floats on top of the sludge layer and escapes through a liquid outlet on the other side of the rotating bowl.
The continuous ejection of separated solids enables these separators to handle high sludge applications.
Disc-stack centrifugal separators are also known as high-speed disc centrifuges. These machines rotate at a much faster rate of up to 10,000 RPM generating up to 12,000 g-forces.
Disc Stack Separator Operation
This high centrifugal force can continuously separate tiny particles, making these disc stack separating machines well suited for separating small amounts of microscopic particles.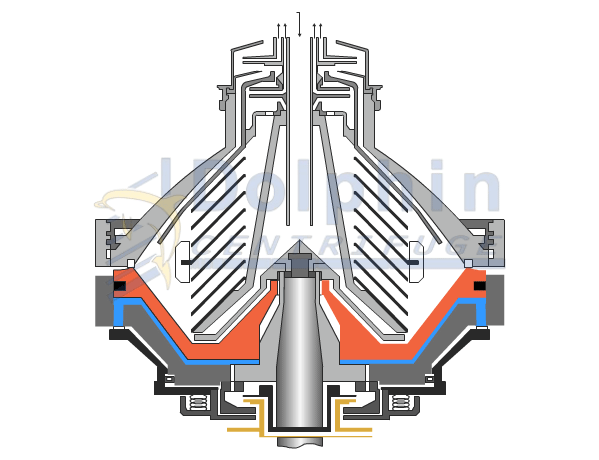 These machines accumulate and periodically eject the separated solids, as shown in the animation above. These separators are more suited for low sludge applications due to the intermittent sludge ejection.
Specifications
Centrifugal separators manufactured by Alfa Laval are available in various sizes and capacities. The following tables list the specifications of some of these separators.
Alfa Laval Decanter Separator Specifications
| | | |
| --- | --- | --- |
| Model Type | Alfa Laval NX-309 | Alfa Laval Aldec 406 |
| Bowl Speed | 5,800 RPM | 4,000 RPM |
| Gravitational Force | 3,200 Gs | 3,150 Gs |
| Bowl Size | 10" Diameter | 14" Diameter |
| Rated Capacity | 5 GPM | 100 GPM |
| Drive Motor | 5 HP | 25 HP |
| Separator Size | 2' x 5' x 4' (H) | 3' x 9' x 5' (H) |
| Weight | ~ 1,500 Lbs | ~4,000 Lbs |
Alfa Laval Disc-Stack Separator Specifications
| | | |
| --- | --- | --- |
| Model Type | Alfa Laval WSPX-303 | Alfa Laval BRPX-417 |
| Bowl Speed | 9,200 RPM | 4,000 RPM |
| Gravitational Force | 8,000 Gs | 7,500 Gs |
| Bowl Size | ~10" Diameter | ~30" |
| Rated Capacity | 4 GPM | 280 GPM |
| Drive Motor | 4 HP | 50 HP |
| Separator Size | 3' x 4' x 4' (H) | 4' x 7' x 7' (H) |
| Weight | ~1,000 Lbs | ~4,000 Lbs |
by Sanjay Prabhu MSME
Engineering Manager, Dolphin Centrifuge