Industrial Centrifuge Controls | Fully Automatic Operation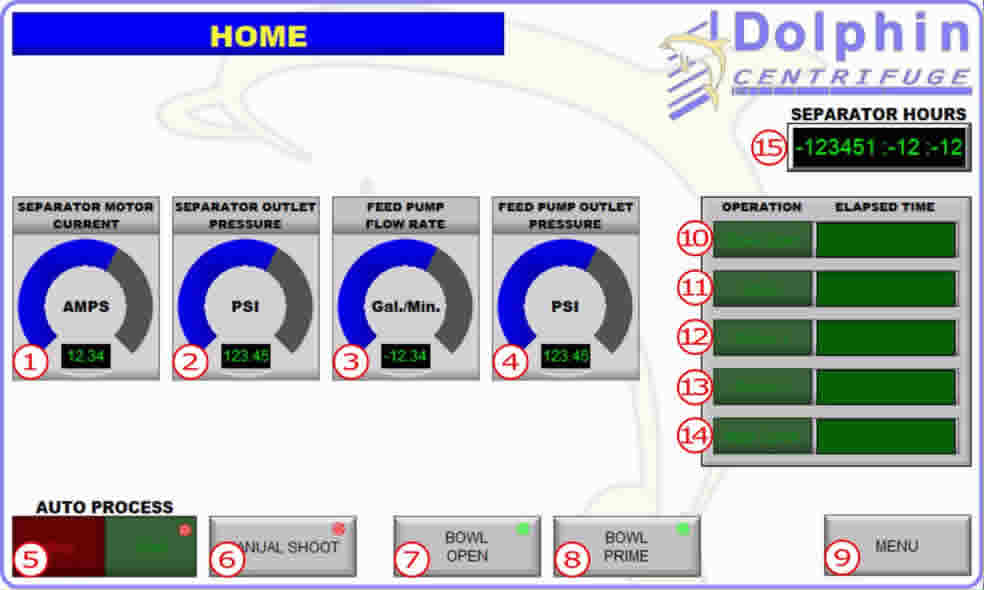 Dolphin Centrifuge has developed its line of Industrial Centrifuge Control Systems. These controls are specific for Alfa Laval Disc Stack and Decanter Centrifuges.
Our control panels incorporate the latest technologies available. Ease of use and built-in troubleshooting features are highlights of our control systems.
They can be customized to provide unique functionalities and application-specific features. These include process data storage, DCS interface, and remote operator functionality.
Dolphin's centrifuge control systems often incorporate:
Advanced Trouble Shooting Guides.
System Fault Data Logging.
Alarm Functions with Alarm History Log.
Administrator Setting with Password Protection.
Decanter control panels offer:
VFD Starters for Main and Back-drive Motors.
Motor Sequence Logic.
Braking Resistors for Quick Ramp-down.
Vibration Sensors with Feed Pump Interlock.
Bowl Speed Control.
Conveyor Torque Monitoring.
Bearing Temperature Monitoring and High-Temperature Alarm.
Automatic Shut-down Sequence.
Centrifuge Controls Benefits
PLC for process control & HMI (Touchscreen) as a user interface.
Detailed graphical display with live on-screen parameter monitoring.
Fully automatic operation with elaborate manual controls
Primary alarm functions pre-configured.
Inputs for Pressure, Flow, Temperature, and Vibration sensors.
Built with hi-quality, off-the-shelf components for quick field serviceability.
PID Loop Control for VFD Feed Pumps & Level Sensors.
New Controls for Your Old Centrifuge
Do you have old industrial centrifuges with outdated controls? We can retrofit our state-of-the-art centrifuge controls on your existing centrifuge systems. The customer can expect improved efficiency and lesser downtime with many extra functions.
Contact Dolphin today to discuss the possibilities.
Explosion-Proof Centrifuge Controls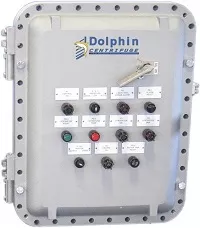 Dolphin Centrifuge has designed and assembled NEC Class 1 Div 1 and Class 1 Div 2 control systems for all types of centrifuge applications. You can read more about our explosion-proof centrifuges.
NEMA4X or NEMA7
UL or IEC / ATEX classifications
Zone 1 & 2 categories.
Field instrumentation compatibility.
Nitrogen-purged enclosures.
DCS control options.