Beer, Wine, Cider, Juice Centrifuges | Stainless Steel Separators for Beverages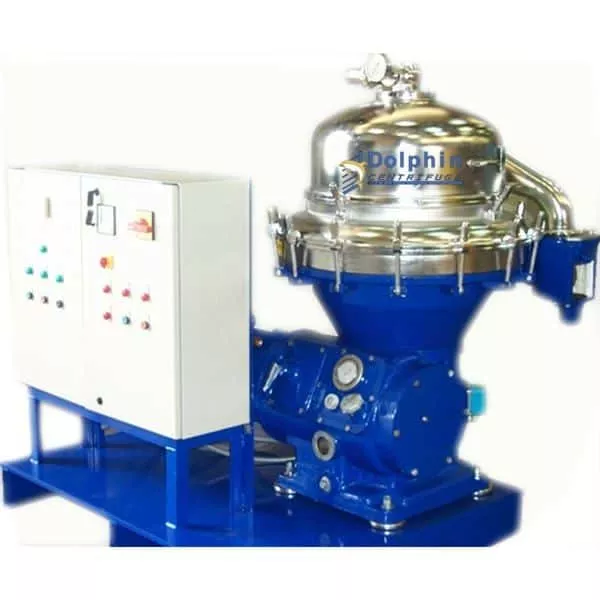 Table of Contents
---
Disc centrifuges are perfect for clarification of beer, wine, and fruit juice from yeast, sediment, pulp, and other suspended impurities.
Beer Centrifuge: Make More Beer from Each Brew
A large volume of perfectly brewed beer is lost in the process when cellaring-off dry hop solids, surplus yeast, and trub. It's all money going down the drain. But with a beer clarifier centrifuge, you can exploit it to the maximum and sell more beer. We have the right solution ready for brewers, small and large!
A beer centrifuge is a self-cleaning disc-stack Alfa Laval centrifuge that uses centrifugal force to separate the yeast particles from beer. With a Relative Centrifugal Force (RCF) of over 7,000 Gs, this food-grade centrifuge separates all fine particles down to 0.5 microns to produce clear beer.
Did you know fermentation tank bottoms contain up to 80 percent perfectly brewed beer? And even more, can be recovered from the unclarified hot trub. Why throw it away when you can sell it instead? Get a centrifuge skid, and you can keep all that beer in the brewing process.
Benefits of a Beer Centrifuge
5 to 10 percent more beer from the same amount of raw ingredients.
Same amounts of beer brewed with decisively reduced effort (less energy and hours of work)
Multi-purpose applications in the brewing process to take your business to the next level!​
Wine Centrifuge: Wine Clarifiers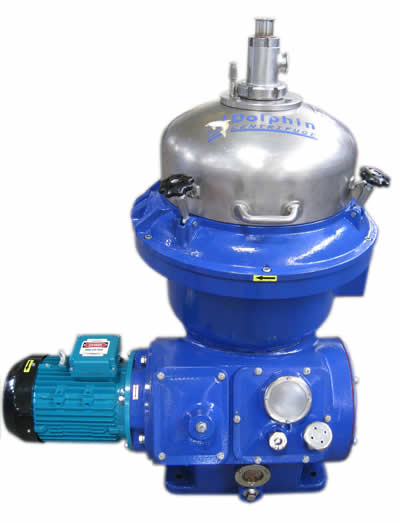 Centrifugal disc clarifiers can be employed in various process stages in wineries. The most common application is for must clarification to remove impurities like broken cells, dirt, soil, pesticide residue, bacteria, fungi, or grape decay.
An industrial food-grade centrifuge is an efficient way to separate the process residue from wine continuously. Exerting over 7,000 Gs, the stainless steel disc-stack centrifuge can remove organic and inorganic particles down to 0.5 microns from fresh wine.
They can also be used to clarify lees in place of costly lees filters to minimize the loss in the production process. The centrifuge process may also be employed in the place of filtration to clarify finished wines. This includes all forms of still and sparkling wines.
Another excellent application for a centrifuge is to spin off yeast and large particles after fermentation or, in many cases, during fermentation to remove yeast and stop the fermentation. This application is perfect for the daunting task of stopping the fermentation of dessert-style wines.
---
If you have simple, routine questions: We have condensed our 40+ years of disc-stack centrifuge experience into 101 Frequently Asked Questions about Disc Stack Centrifuges!
---
Centrifuges for Cider or Juice Clarification
Alfa Laval food-grade disc centrifuge is best suited for cider processing. High separation efficiency can be attained due to the very high g-force exerted by the centrifuge. Also, with mechanical separation, there is no need for manual filter changes, which leads to major cost savings on labor and filter media.
Beer and Wine Centrifuges for Sale
The following centrifuges for beer, wine, cider, and juice processing are available from Dolphin Centrifuge.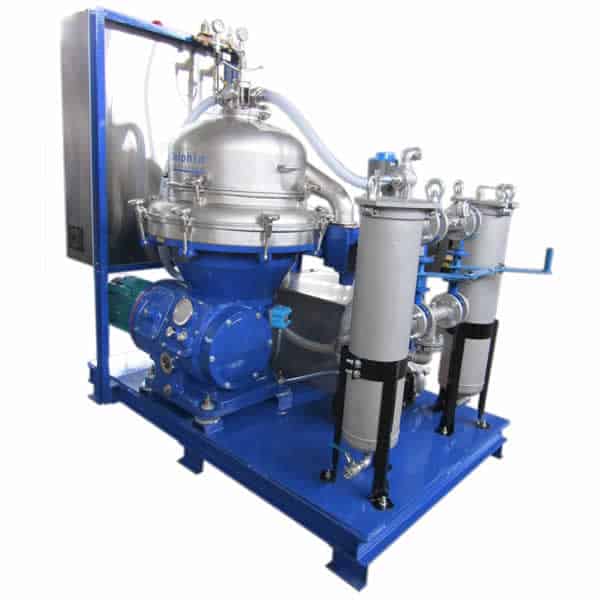 Alfa Laval BRPX 313 Stainless Steel, Disc-Stack Centrifuge
| | |
| --- | --- |
| Technical Specifications | |
| Capacity | 40 GPM on Beer Clarification |
| Motor Power | 20 HP |
| Bowl Speed | 4,150 RPM |
| Bowl G-Force | 6,500 Gs |
| Skid Dimensions | 4' x 5' x 6' (H) |
| Skid Weight | 3500 lbs |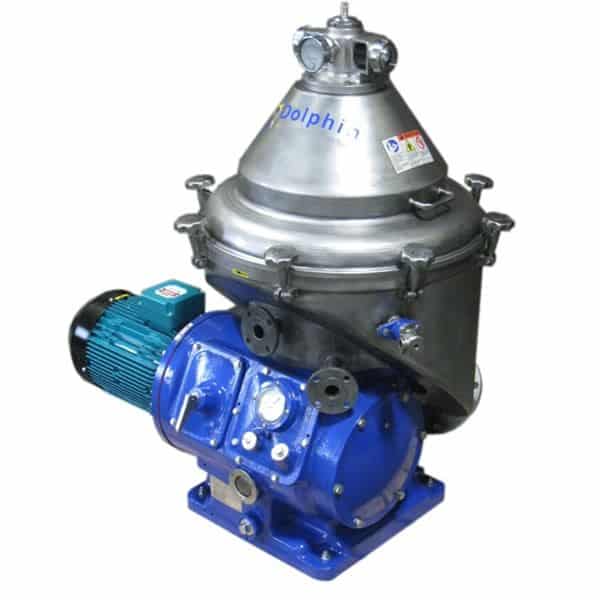 Alfa Laval BRPX 309 Beer Centrifuge
| | |
| --- | --- |
| Technical Specifications | |
| Capacity | 30 GPM on Beer Clarification |
| Motor Power | 10 HP |
| Bowl Speed | 5,200 RPM |
| Bowl G-Force | 6,700 Gs |
| Skid Dimensions | 4' x 5' x 6' (H) |
| Skid Weight | 3000 lbs |
Alfa Laval VNPX 407 Wine Centrifuge
| | |
| --- | --- |
| Technical Specifications | |
| Capacity | 26 GPM White Wine; 30 GPM Red Wine |
| Motor Power | 10 HP |
| Bowl Speed | 6,400 RPM |
| Bowl G-Force | 7,200 Gs |
| Skid Dimensions | 5' x 5' x 6' (H) |
| Skid Weight | 3000 lbs |
Alfa Laval VNPX 410 Stainless Steel, Food-Grade Centrifuge
| | |
| --- | --- |
| Technical Specifications | |
| Capacity | 44 GPM White Wine; 52 GPM Red Wine |
| Motor Power | 15 HP |
| Bowl Speed | 5,500 RPM |
| Bowl G-Force | 7,100 Gs |
| Skid Dimensions | 5' x 6' x 6' (H) |
| Skid Weight | 4200 lbs |