Food Grade Centrifuge | Specifications, Advantages, Applications
Table of Contents
---
Operation
A food-grade centrifuge is a specifically designed industrial centrifuge for beverage clarification. With a flow-through design, stainless steel food-grade centrifuges offer continuous processing. High centrifugal force (up to 10,000 g) separates beverages from fine impurities (1.0µ).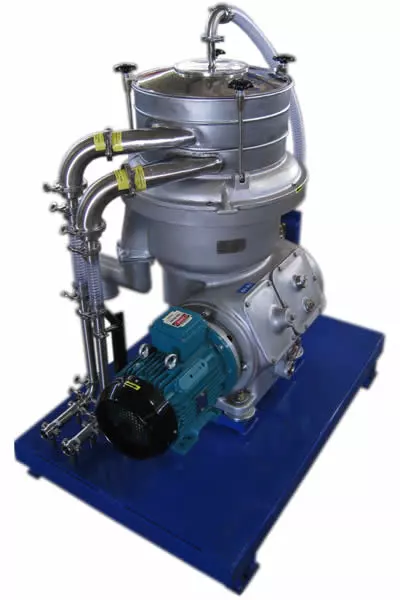 Applications
Food and beverage industry applications for food-grade centrifuges include:
Clarified Butter Separator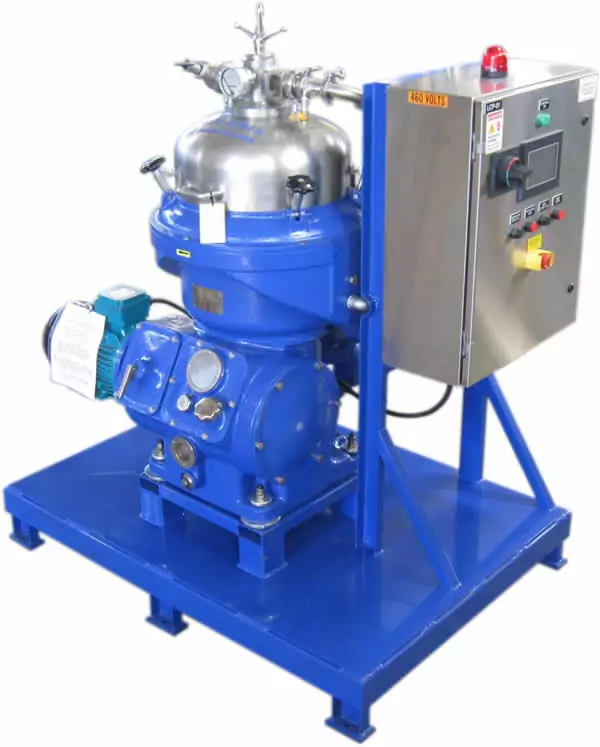 Benefits
A food-grade disc-stack centrifuge offers several benefits over conventional filtration or other gravity-based separation technologies. The following is a list of the main advantages.
Centrifuge Efficiency: Disc-stack centrifuges are highly efficient and can separate particles as small as 0.1 microns. A comparable filter to separate such small particles is not feasible for large fluid volumes.
All Stainless Steel Fluid Contact: Food-grade centrifuge has all stainless-steel wetted parts, making them ideal for processing beverages and other fluids for human consumption.
Processing Capacity: With a continuous, flow-through design, food-grade disc-stack centrifuges process large volumes without requiring filtration-related stoppage.
Automatic Operation: Fully automated controls and the ability to discharge the separated solids automatically, disc-stack centrifuges offer labor-related cost efficiency as an additional benefit.
Consistent Flow: Unlike filters which gradually reduce the flow as the particles block the filter media, disc centrifuges operate with a constant flow rate.
Large Capacity to Size Ratio: For similar processing capacity, a food-grade disc centrifuge has a much smaller footprint than a filter or settling tank. This feature is an advantage for facilities with limited space.
Specifications
Food-grade centrifuges are available in different configurations. These specifications are for the centrifuge described in the following case study.
| | |
| --- | --- |
| Centrifuge Model | Alfa Laval SSB-206 - Food Grade |
| Type | 3-Phase, Manual Clean, Disc-Stack |
| Capacity | 25 GPM on Mint Oil & Water Separation |
| Sludge Space | 1 Gallon |
| Bowl Speed | 8,500 RPM |
| G-Force | 8,000 Gs |
| Motor Power | 7.5 HP |
| Weight | 1,500 Lbs (Bare Centrifuge) |
| Size (Dimensions) | 3' x 4' x 4' (H) (Bare Centrifuge) |
Material of Construction (MOC)
Most food-grade centrifuges have stainless steel as the primary material of construction. Some special applications with highly corrosive fluids may require exotic materials such as Hastelloy as the MOC.
The following table lists the construction material for the most common Alfa Laval food-grade centrifuges.
| | |
| --- | --- |
| Centrifuge Part | Material |
| Bowl Body | 316 L Stainless Steel |
| Bowl Hood | 316 L Stainless Steel |
| Inlet / Outlet Assemblies | 316 L Stainless Steel |
| Centrifuge Hood (Top Cover) | Silumin or 316 L Stainless Steel |
| Centrifuge Frame | Cast Iron |
| Sludge Discharge Chute | Cast Iron or Stainless Steel (rare) |
| Separated Water Discharge | 316L Stainless Steel or Cast Iron |
Application Case Study
The following is a case study illustrating the use of a food-grade centrifuge for spearmint oil purification.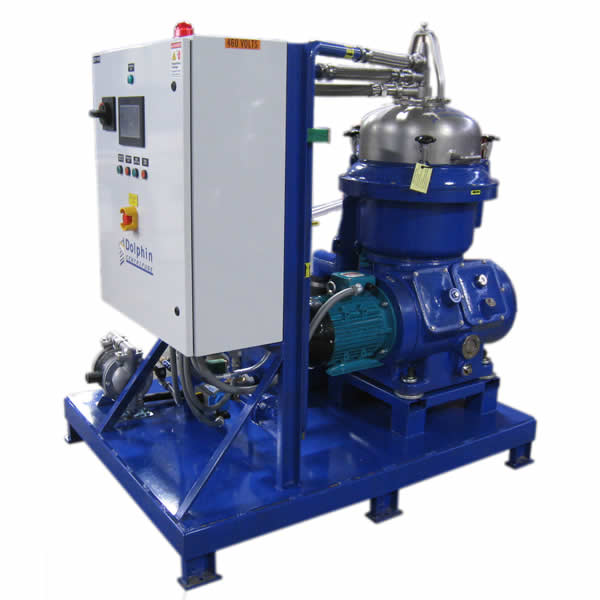 Mint Oil as a Flavoring Agent
Mint oil is a widely used food flavoring agent. Many consumable products, such as toothpaste, chewing gum, soap, etc., use mint oil.
Moisture in Crude Mint Oil
Crude mint oil contains moisture. This moisture removal is necessary before distillation to make the oil dry.
Large amounts of water in the oil can cause an unacceptable load on the distillation system. Trace amounts of moisture left in the oil lead to quality & shelf-life issues. An industrial-scale stainless steel centrifuge is the solution!
Pilot Scale Feasibility Testing
One of the largest peppermint oil producers contacted Dolphin Centrifuge to perform a feasibility study on their oil. The producer wanted to explore centrifuges as a remedy for their moisture problem.
Dolphin Centrifuge proposed a pilot-scale test of their mint oil as a proof of concept. Our bench-top, pilot-scale disc centrifuge is ideal for such testing.
Disc stack centrifuges show high liquid/liquid separation efficiency. We processed a 20-gallon customer sample through our test centrifuge.
Testing Results
The customer technician used a 'freeze test' to verify the dryness of the separated oil (pure mint oil). He would freeze a small volume of the oil in a refrigerator.
Clear oil indicated the absence of moisture in the processed oil. All samples taken from our testing centrifuge were clear post-freezing. The customer acknowledged the test to be a success!
Production Validation
Based on the pilot-scale test, the customer purchased a stainless steel centrifuge from Dolphin Centrifuge. Crude mint oil has no particle contamination. So Dolphin supplied a solid bowl-type disc-stack centrifuge for their production. It was stainless steel, food-grade centrifuge made by Alfa Laval.
After the oil centrifuge installation and initial production, the customer returned to Dolphin. The realized production volume from the first unit was as expected. The quality of oil produced was beyond expectations.
Based on these facts, the customer ordered multiple food-grade centrifuge units for their entire production volume.
Contact Dolphin Centrifuge for pricing information or to discuss your specific application. We have a large inventory of food-grade centrifuges for sale.
by Sanjay Prabhu MSME
Engineering Manager, Dolphin Centrifuge