Alfa Laval BTPX 205 Disc Centrifuge | Biotech Cell Harvesting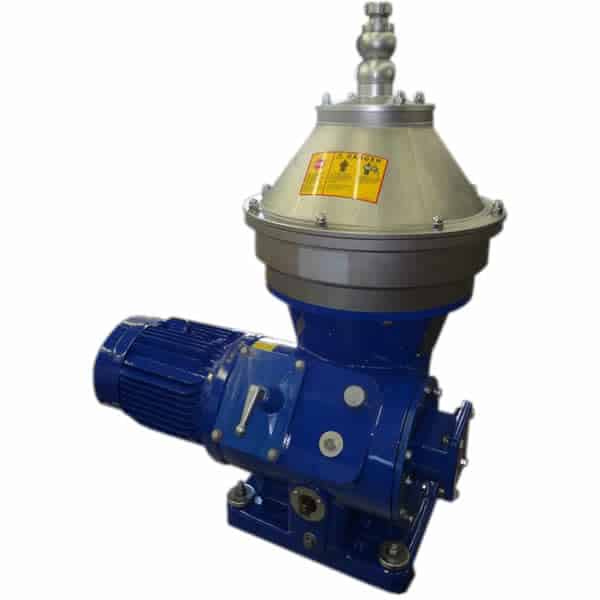 Overview
The Alfa Laval BTPX-205 is a self-cleaning centrifuge of the disc-stack type. Its design allows it to separate the liquid from liquid and solids (purifier) or liquid from solids (clarifier).
The BTPX-205 features a 'partial solids' ejection feature that allows the centrifuge to purge only the solids. This feature reduces fluid losses associated with sludge ejection.
The sludge ejection cycle can be timer triggered or based on volume processed.
As a clarifier, the centrifuge separates suspended solids such as organic cells in a broth or fine chemicals. When setup as a purifier, it separates solids as well as intermixed and immiscible liquid phases.
The solids content in the process fluid can be up to 10% by volume and can vary.
Specifications
| | |
| --- | --- |
| Model Type | Alfa Laval BTPX-205 |
| Rated Capacity | 5 GPM on Pharma Cell Broth |
| Sludge Space | 0.25 Gallons |
| Bowl RPM | 9,650 |
| G-Force | 12,800 Gs |
| Motor HP: | 7.5 HP |
| Voltages: | 230 / 460 V |
Applications
The BTPX-205 is applicable for the removal of suspended solids with particle size of 0.5 t0 500 µm. The liquid centrate has a lower density than the solids.
The solids content is usually in the range of 0,1 to 10% by volume. The total solids content can be from 0.1% to 10% by volume.
The following are some of the popular applications the Alfa Laval BTPX-205:
Biotechnology

Organic Cell Harvesting
Cell Growth
Clarification Fermentation Broth
Clarification of Cell Debris
Recovery of Inclusion Body

Pharmaceutical

Plasma Fraction Recovery
Precipitate Recovery
Vaccines and Serums Production

Chemical

Catalyst Separation
Sub-micron Particle Separation
Pigments, Dyes and Toners

The maximum process capacity of the machine is 5 Gallon/Minute.
Operation
The bio-culture fluid enters the rotating bowl of the BTPX 205 centrifuge. The bowl exerts a high g-force (12,800 Gs) on the process fluid.

The centrifugal force causes rapid sedimentation of the cells. These separated cells are auto-ejected from the centrifuge.

The liquid phase (broth) moves towards the centers and exists the bowl through a separate outlet.

A detailed explanation of the operation of the BTPX-205 centrifuge follows.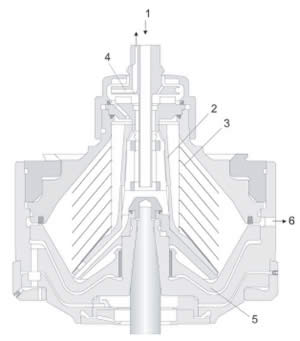 The process fluid enters the rotating bowl of the centrifuge through a stationary inlet pipe (1). The distributor (2) accelerates the fluid before it enters the disc-stack (3).
The separation of the solids from the liquid happens in the inter-disc space.
The clear liquid moves towards the center of the bowl. A paring disc (4) pumps out the clear centrate.
The denser solids move towards the bowl periphery. From there, their ejection happens through the centrifuge cyclone.
A hydraulic mechanism located under the bowl separation space causes the sludge ejection. This mechanism forces the sliding piston (5) downward, opening the solids ejection ports (6) at the bowl periphery.
The cyclone reduces the high ejection velocity of the solids.
Dolphin Centrifuge has an Alfa Laval BTPX-205 Biotechnology centrifuge system in stock for sale.