---
Algae Centrifuge


Algae Centrifuge – What is it?
An algae centrifuge is a 'flow-through' centrifuge used for harvesting algae cells from water. It uses the centrifugal force generated by the fast rotation of the algae water to spin out the algae cells and separate them.
There are small scale, 'commercial grade' centrifuges for algae available for sale. These centrifuges process 1 ~ 5 GPM and exert centrifugal forces in the 1000 – 2000 g's range.
The low flow-rate is due to the low g-force generated by these centrifuges, which require higher retention time. Which, in turn, means low flow rates.
These centrifuges are suitable for small scale algae cell separation in labs. For industrial-scale algae harvesting, you need an industrial disc stack centrifuge, as described below.
Operation
An industrial algae centrifuge is an effective way of harvesting algae cells from water. The high g-force (up to 12,000 g's) spins the algae cells toward the centrifuge bowl wall. The centrifuge discharges the clear, separated water continuously. The 'self-cleaning' type bowl auto ejects the concentrated algae cells. This discharge comes out as a slurry or a thick paste ready for algae oil extraction or drying.
A flow-through centrifuge allows large scale, continuous separation of algae. This constant separation eliminates any filters or other separation machines, such as filter presses or screw presses.
Our self-cleaning centrifuge models have different capacities. They can process from 5 gallons per minute to over 100 gallons per minute of algae water.
The high g-force does not damage the algae cell structure.
Industrial algae centrifuges primarily have all stainless steel fluid contact. This corrosion-resistant material allows the harvesting of saltwater algae on a commercial scale.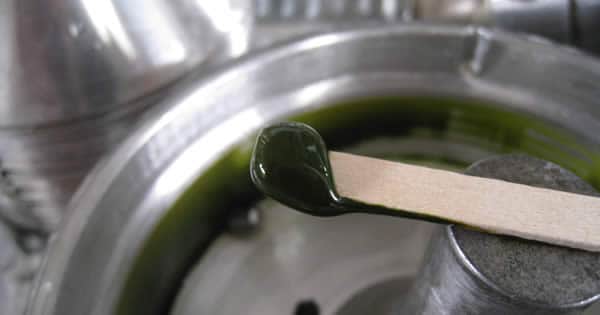 Specifications

The following are the specifications for a typical Alfa Laval disc-stack centrifuge when used for algae cell harvesting.

Processing Capacity
25 GPM on Algae Dewatering (32 GPM Max.)
Centrifuge Type
Self-Cleaning, Disc-Stack Centrifuge (Auto Ejects Concentrated Cells)
Bowl Speed
6,300 RPM
Centrifugal Force (RCF)
7,000 Gs
Cell Volume
1.0 Gallons
Motor Power
7.5 HP (5 kW)
Dimensions & Weight
4′ x 6′ x 5′ (H)   2,500 Lbs
Algae Centrifuges for Sale