Algae Centrifuge | Large-Scale Algae Cell Harvesting


Table Of Contents
Algae Centrifuge
An algae centrifuge is a 'flow-through centrifuge used for harvesting algae cells from water. It uses the centrifugal force generated by the fast rotation of the algae water to spin out the algae cells and separate them.
There are small-scale, 'commercial grade' centrifuges for algae available for sale. These centrifuges process 1 ~ 5 GPM and exert centrifugal forces in the 1000 - 2000 g's range.
The low flow rate is due to the low g-force generated by these centrifuges, which require a higher retention time. This, in turn, means low flow rates.
These centrifuges are suitable for small-scale algae cell separation in labs. For industrial-scale algae harvesting, you need an industrial disc stack centrifuge, as described below.
Operation
An industrial algae centrifuge is an effective way of harvesting algae cells from water. The high g-force (up to 12,000 g's) spins the algae cells toward the centrifuge bowl wall. The centrifuge discharges the clear, separated water continuously.
The 'self-cleaning' type bowl auto-ejects the concentrated algae cells. This discharge comes as a slurry or a thick paste ready for algae oil extraction or drying.
A flow-through centrifuge allows large-scale, continuous separation of algae. This constant separation eliminates filters or other separation machines, such as filter presses or screw presses.
Our self-cleaning centrifuge models have different capacities. They can process from 5 gallons per minute to over 100 gallons per minute of algae water.
The high g-force does not damage the algae cell structure.
Industrial algae centrifuges primarily have all stainless steel fluid contact. This corrosion-resistant material allows the harvesting of saltwater algae on a commercial scale. An all-stainless steel centrifuge (food grade) is recommended for algae cultivated in seawater.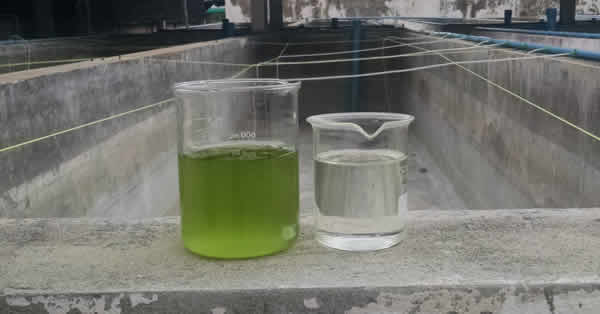 Benefits
Algae Centrifuges offer multiple advantages over conventional filters or open-bowl centrifuges. Following is a list of some of these benefits.
Continuous Process: Algae centrifuges have a flow-through design that allows the algae cells to be harvested continuously. The centrifuge continuously discharges the clear centrate (water) through a designated water outlet.
High Centrifuge Efficiency: A disc-stack centrifuge with high centrifugal force has an equivalent settling area the size of several football fields. An open bowl centrifuge with a low RPM centrifuge cannot affect such centrifuge efficiency.
7,000+ G-Force: WIth a high rotation speed, the disc-stack centrifuge exerts a centrifugal force over 7,000 that of gravity. Separating the smallest algae cells under this tremendous force is quick and efficient.
Self-Cleaning Design: The self-cleaning disc-stack centrifuge automatically ejects the separated algae biomass without stopping the centrifuge.
Compact Size: Disc-stack centrifuges are compact and can fit into small spaces. For example, a 20-GPM Algae Harvesting Centrifuge has a 3' x 3' x 4' (H) footprint.
Low Operating Cost: The only operating cost of an algae centrifuge is electricity for the drive motor. Given that the centrifuge is 'self-cleaning' and fully automatic, there is no recurring material (filter, media, etc.) or manual labor costs.
Durability: Alfa Laval centrifuges are highly durable machines with primary bowl parts made of 316 Stainless Steel. The centrifuge frame is also very robust, and it is not unusual for these centrifuges to provide decades of service life.
---
If you have simple, routine questions: We have condensed our 40+ years of disc-stack centrifuge experience into 101 Frequently Asked Questions about Disc Stack Centrifuges!
---
Specifications
The following are the specifications for a typical Alfa Laval disc-stack centrifuge when used for algae cell harvesting.
| | |
| --- | --- |
| Processing Capacity | 25 GPM on Algae Dewatering (32 GPM Max.) |
| Centrifuge Type | Self-Cleaning, Disc-Stack Centrifuge (Auto Ejects Concentrated Cells) |
| Bowl Speed | 6,300 RPM |
| Centrifugal Force (RCF) | 7,000 Gs |
| Cell Volume | 1.0 Gallons |
| Motor Power | 7.5 HP (5 kW) |
| Dimensions & Weight | 4' x 6' x 5' (H) 2,500 Lbs |
Manufacturer
Dolphin Centrifuge manufactures Algae Centrifuges specially modified Alfa Laval centrifuges to separate or harvest algae cells from water. We also manufacture three-phase centrifuges that work as algae oil separators to extract the separated algae oil from the water.
Other Applications
Kelp or seaweed separation, humic fertilizer separation, and other similar biomass extraction processes are well suited for this type of stainless steel centrifuge.
The Alfa Laval stainless steel disc-stack centrifuge shown below is for processing kelp (seaweed) for organic fertilizer production.
Lab Scale Algae Harvesting - Disc Stack Centrifuge
The following are results from the process of a small (1 gallon) sample of commercial algae through our lab scale disc stack centrifuge. The results are self-explanatory.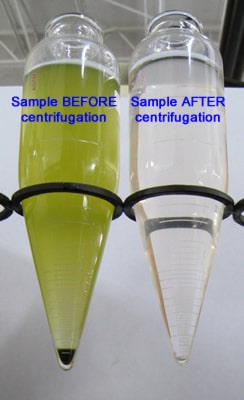 Algae Oil Separation
An algae oil separation centrifuge separates the algae oil from water. This centrifuge is a disc-stack industrial centrifuge that continuously exerts high force to separate the light oil from the water.
A self-cleaning centrifuge also separates the algae cell debris from the oil and self-ejects this separated biomass intermittently.
FAQ
Will a disc stack centrifuge break the algae cells?
A disc stack centrifuge has a high g-force, but it does not damage the algae cell structure or break the cells.
Do all algae centrifuges have the same separation efficiency?
The different types of algae centrifuges do NOT have the same separation efficiency. The open bowl type centrifuge has a much lower separation efficiency than a disc stack centrifuge due to the lack of discs which multiply the settling area a thousand times.
Do algae centrifuge need to be all stainless steel contact?
Algae centrifuges that harvest algae from seawater should typically have all wetted parts made of durable stainless steel. A regular disc stack centrifuge with some non-stainless steel wetted parts will work for freshwater algae.
What is the consistency of the algae concentrate discharged by a disc stack centrifuge?
A self-cleaning disc stack centrifuge concentrates the algae into a thick paste-like consistency. The thickness of the concentrated algae discharge is adjustable with a disc stack centrifuge.
Are there other algae related applications of a disc stack centrifuge?
Disc stack centrifuges separate the algae cell biomass from the algal oil once the algae cells are split to extract the oil.
Alfa Laval Algae Centrifuge Models