Dolphin Centrifuge - Your One-Stop Industrial Centrifuge Shop!
Table Of Contents
Who is Dolphin Centrifuge?
Dolphin Centrifuge is a company specializing in manufacturing industrial centrifuge systems.
Established in 1981, we started as an Alfa Laval aftermarket parts manufacturer.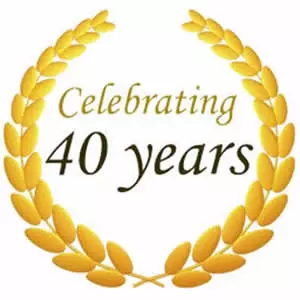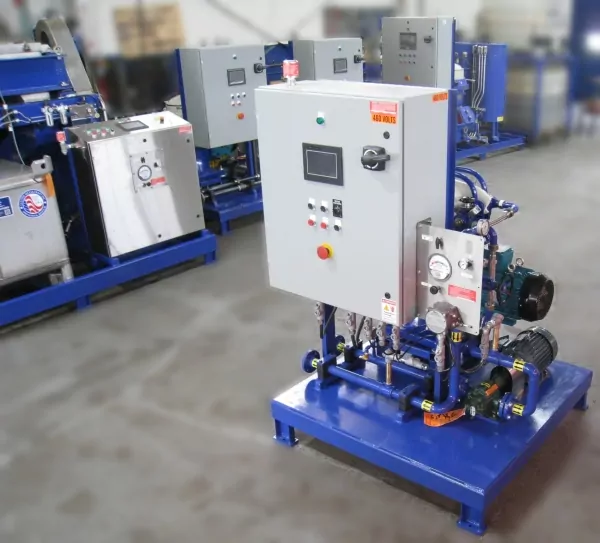 Over time, we created a niche for ourselves in the industrial centrifuge market. Our niche is complete fluid recovery systems built around Alfa Laval industrial centrifuges.
By 2004 we had supplied centrifuge systems to all five major continents. In 2017 we had a global annual installed capacity of over 10 billion gallons!
What does Dolphin Centrifuge do?
As an engineering company, we design and manufacture centrifuge systems for food, environmental chemicals, waste processing, rendering, metalworking, and similar industries. These centrifuge systems all feature Alfa Laval centrifugal separators.
One of our specialties is re-purposing disc stack centrifuges. We develop centrifuge-based solutions for applications that even the OEM rate is unlikely!
Also, we manufacture auxiliary centrifuge systems to complement our centrifuge systems. Some of our proprietary additions include:
– Heat Loops (Clog-Free Fluid Heating or Cooling Exchanger)
– Hot Fluid Heat Recovery Package
– Containerized Oil Recovery Systems (ORS)
– Heavy-duty heater, Strainer, and Pump Modules (Crude Oil)
Dolphin has developed its proprietary Centrifuge Control System. It uses state-of-the-art technology for ease of operation and unique built-in troubleshooting features.
Where is Dolphin Centrifuge based?
Our location is in the Detroit Metro area, in the city of Warren, MI. Our manufacturing location is in an industrial district close to our vendors. Being in Motor City is an advantage with many automotive suppliers in the area.
Our Industrial Centrifuge Stock
We have over 150 New and Used industrial centrifuges in our stock in Warren, MI. We source good (gently used) Alfa Laval centrifuges from all over the world. In our stock, you will not find centrifuges from drilling mud or other abrasive applications.
We can also source new centrifuges for customers who cannot accept reconditioned centrifuges.
Why Choose Dolphin Centrifuge?
Simply put, we know centrifuges, and we have the expertise! We have supplied centrifuges over the years for most practical applications. Our experience allows us to help our customers select the best centrifuge for their specific purpose.
Our years of field experience and lessons are built into our centrifuge equipment as an added benefit.
Dolphin Centrifuge has a spacious, well-equipped industrial facility. Our location has a growing inventory of over 200 centrifuges in stock.
Our stock of gently used centrifuges is a significant benefit to our customers. It allows us to offer quality centrifuges from our inventory instead of searching the market after getting your order.
We take great pride in our American workmanship and a well-recognized client list. Our customer list includes our military and other government agencies.
Also, we have supplied centrifuge systems to O&G companies, Power Utilities, Rig-builders, etc.
All our centrifuge equipment comes with a mechanical warranty. We also provide lifetime technical support to our customers.
Our Team
Dolphin Centrifuge's primary resource is our people. Our team has a cumulative 100+ years of experience with industrial centrifuges. We have the technical background to produce top-shelf equipment with mechanical and electrical engineers on staff.
We have the experience and expertise to handle the toughest centrifuge challenges.
Our Facility
Dolphin Centrifuge has the in-house capability to design, manufacture and test all the components for a complete centrifuge module. We build the following crucial components in our factory in Warren, Michigan.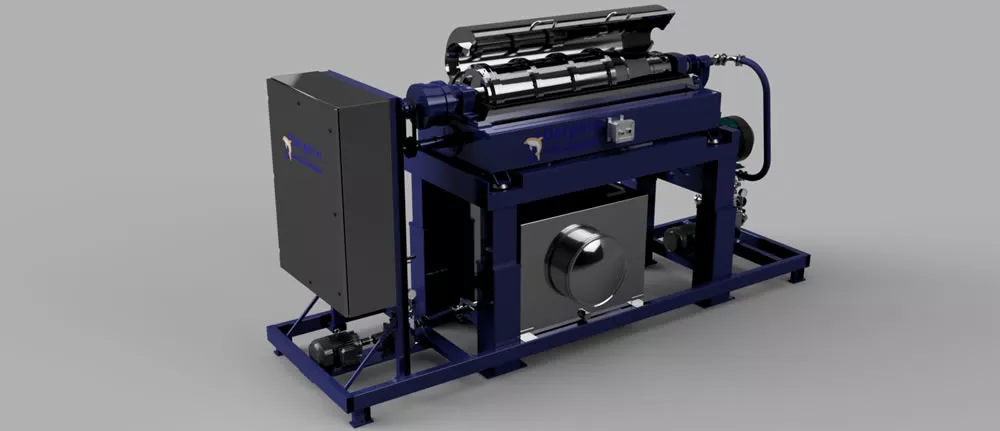 We create 3D models of complex systems to visualize and design appropriate piping and auxiliaries, general assembly layout, module flow, etc.
We also provide the General Assembly (GA) drawing to the customer for review before building.
Skid, Piping, and Support Fabrication
All fabrication of skids, piping, support structures, auxiliary tanks, etc., is done in-house to ensure quality and dimensional accuracy based on customer feedback.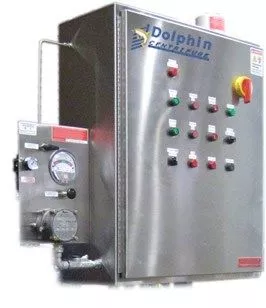 Dolphin Centrifuge's proprietary control system uses the latest technologies to offer ease of use and operator feedback with a troubleshooting guide built into the control system.
Centrifuge Remanufacture
A used centrifuge is remanufactured from scratch following the OEM rebuild process. From the bare metal (sandblasted) to two-coat surface protection with durable epoxy coats, every aspect of the remanufacturing process is geared towards a reliable centrifuge with a long service life.
System Assembly and Test
The centrifuge system wiring, sub-system assembly, and complete module testing using mineral oil or water is a routine exercise for all industrial centrifuge systems from Dolphin Centrifuge.
Open Invitation!
We invite all potential customers to visit us at our facility to get a feel for our work and our capabilities.