Hydraulic Oil Centrifuge: Operation, Uses, Benefits & Specifications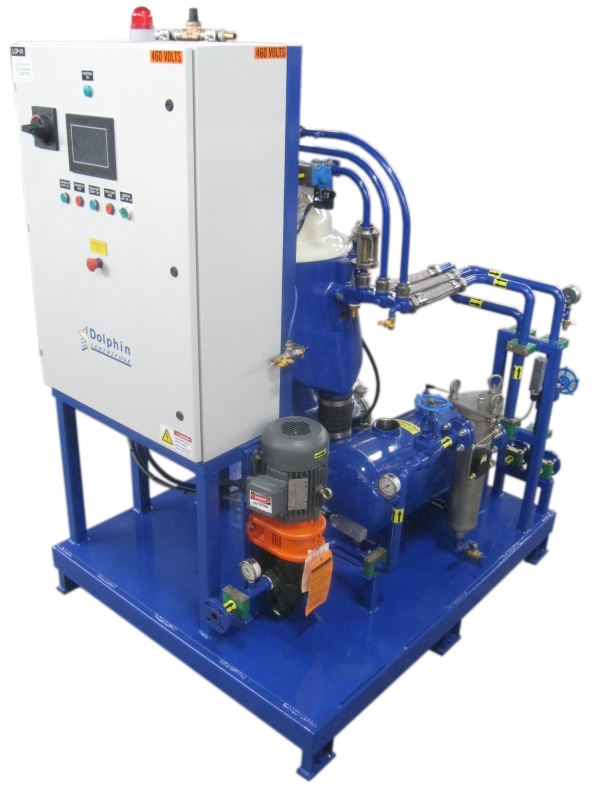 Table Of Contents
Actuator seals and cylinder wear particles contaminate hydraulic oil. Clean hydraulic oil ensures the durable operation of extrusion presses and other hydraulic machinery for extended periods.
The operation can run according to the plan as long as the hydraulic oil remains clean. Yet, when particles and water contaminate the hydraulic fluid, its properties deteriorate fast. This contamination causes costly production downtime due to the failure of pumps and other equipment.
Modern hydraulic systems require the use of high-grade, clean hydraulic oil to maximize equipment utilization. A disc-stack centrifuge assures this level of cleanliness with 8,000 g-forces.
The image above shows small hydraulic oil centrifuge systems built on pre-heaters. This system is ideal for servicing individual hydraulic fluid sumps in the aluminum extrusion or steel scrapping industry.
---
If you have simple, routine questions: We have condensed our 40+ years of disc-stack centrifuge experience into 101 Frequently Asked Questions about Disc Stack Centrifuges!
---
Operation
A hydraulic oil centrifuge separates water and fine solids from hydraulic oil continuously. The centrifuge bowl rotates at 7,800 RPM generating 7,000 Gs of force. This centrifugal force is enough to separate particles down to 0.5-micron level and all free water.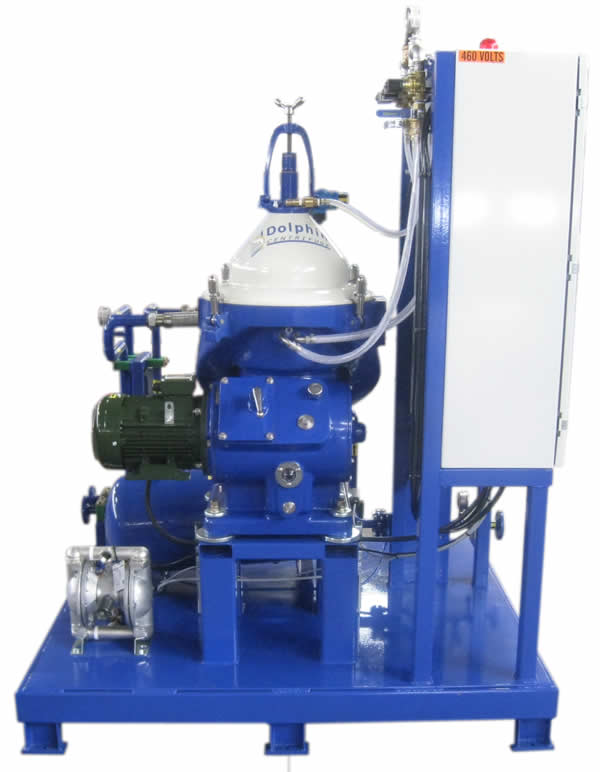 Applications
Hydraulic oil centrifuges are applicable in all industries that use hydraulic oil for different applications. Some of the common application examples are the Extrusion Industry for Plastic or Metal Extrusion Presses, Stamping Industry for Stamping Presses, Forging Industry for Forging Presses, Molding Industry, Rigging Industry for Cranes and Actuators, Scrapping Industry for Balers and Compactors, etc.
Benefits
Disc stack centrifuges offer several advantages over filters to purify hydraulic oil. Some of the main benefits are listed below.
Simultaneous Water And Solid Removal
Three-phase centrifuges are designed to separate water and solid contaminants from the oil simultaneously. The three phases refer to oil, water & solids. Filters do not remove water and require additional separating devices for water removal.
No Performance Degradation
A disc stack centrifuge is a flow-through type, meaning that the contaminated oil passes through the centrifuge and comes out clean. Unlike filters, the separated particles or solids do not obstruct the flow of the oil and degrade performance.
Wide Range of Particle Removal
Conventional filters have a set particle separation rating based on the perforation size of the media. A disc centrifuge separates particles and water using the centrifugal force generated by the bowl rotation. Therefore, centrifuges can separate a wide range of particles from 0.5-micron level to 250+ microns.
Low Operating Cost
The use of filters requires the ongoing replacement of filter media. This media change is labor and cost-intensive. On the other hand, a disc stack centrifuge does not use separation media that require replacement. Therefore, centrifuges have a significant advantage over filters from the operating cost perspective.
Lab Scale Processing of Hydraulic Oil
We have processed small volume (~1 Gallon) samples of contaminated hydraulic oil through our lab scale disc stack centrifuge. The following photographs show the results of this testing.
Our article on using centrifuges on hydraulic oil in the extrusion industry.
Material of Construction
In the Alfa Laval hydraulic oil centrifuges, the material used in its construction is well suited for such applications. The following table lists the various components of the centrifuge and the material it is made of.
| | |
| --- | --- |
| Bowl Body & Bowl Hood | 316L Duplex Stainless Steel |
| Disc Stack | 316L Duplex Stainless Steel |
| Distributor or Disc Carrier | Marine Grade Bronze or 316 Stainless Steel (Special Order) |
| Top Disc | Marine Grade Bronze or 316 Stainless Steel (Special Order) |
| Top Covers (Collecting) | Silium (Aluminum Alloy) |
| Frame | Nodular Cast Iron |
Specifications
The following table lists the specifications of Alfa Laval hydraulic oil centrifuges.
Centrifuge Model -->>
Alfa Laval
MAB 103
Alfa Laval
MAB 104
Alfa Laval
MOPX 205
Type
Manual Clean
Manual Clean
Self Cleaning
Capacity (GPM)
2
4
10
Bowl Sludge Vol (Gal)
0.15
0.38
0.42
Bowl RPM
8,600
7,500
7,600
Motor (HP)
1
2
4
Size
3' x 4' x 4' (H)
3' x 4' x 4' (H)
4' x 5' x 5' (H)
Weight (lbs.)
500
750
1,500
Get to know Dolphin Centrifuge through our about us page. See what our customers have to say about us.