Industrial Centrifuge Sample Testing in a Lab-Scale Disc Stack Centrifuge
We process customer samples through our Alfa Laval Lab Scale Disc Centrifuge (manual clean type) to determine the applicability of centrifugation as a possible separation method. Lab-scale centrifuge sample testing lets Dolphin Centrifuge get a thorough understanding of your separation application and limitations if any.
The test results allow us to recommend the right industrial centrifuge which will work for your process. Our explosion-proof, lab-scale disc centrifuge performs 3-phase separation and 2-phase clarification.
Based on this testing, Dolphin Centrifuge can make an informed recommendation as to:
(a) Applicability & limitations (if any) of an industrial centrifuge.
(b) Type and centrifuge model best suited for customer's needs.
The customer benefits by being able to evaluate centrifuge performance on their product. The customer may also run further laboratory analysis on the returned samples to verify separation efficiency.
What is a Lab Scale Disc Centrifuge?
A small industrial centrifuge is known as a lab-scale disc centrifuge. This centrifuge is designed to exert the same gravitational force as the larger (production) scale centrifuges but can process a small sample (approximately 1 Gallon) for evaluation purposes. Lab-scale centrifuges have the same characteristics as the production models, such as continuous flow, disc-stack, 2-phase, or 3-phase separation.
We can process larger samples based on customer requests. Contact us for details.
Small Batch Customer Sample Testing
Dolphin Centrifuge does have the in-house capability to batch process a sample (up to 10 Gallons) through a small industrial-scale disc-stack centrifuge. Please call one of our centrifuge experts for details on this batch testing service.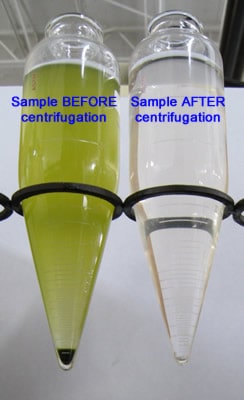 Lab Centrifuge Specifications
| | |
| --- | --- |
| Centrifuge Type | Alfa Laval Disc Stack Centrifuge (Flow Through) |
| Bowl Speed | 12,000 RPM |
| Bowl Type | 3-Phase Separation (Liquid / Liquid / Solids) |
| Max. Centrifugal Force | 10,000 Gs |
| Max. Flow-Rate | 0.1 GPM |
| Max. Solids Concentration | ~ 8% (v/v) |
| Bowl Type | Solid Bowl; Manual Clean |
| Bowl Material Of Construction | 316L Duplex Stainless Steel |
| Feed Pressure | Gravity Feed |
| Discharge Pressure | Light & Heavy Phase - Gravity Discharge |
| Max. Fluid Temperature | 210 F or 98 C |
Testing Process
Phase analysis of incoming customer samples to understand the ratio of different phases.
Thoroughly agitate and heat (if needed) the measured portion of the customer sample.
Process the sample through the lab centrifuge and collect separated phases.
Evaluate separation efficiency by spinning the separated liquid phase in a tube centrifuge.
Create a test report for each customer sample.
Upload a sample testing video for customer visuals.
Ship separated sample phases back to the customer for review and analysis.
A testing charge depends on the type and volume of fluid to be tested.
Contact Dolphin Centrifuge for more information on our lab-scale testing service.