Machining Coolant Centrifuge | Operation, Benefits, Limitations, and Specs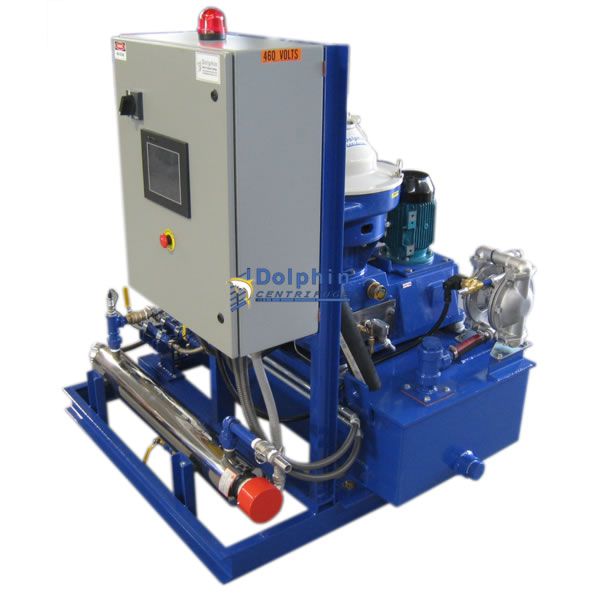 Table of Contents
What is Machining Coolant?
Industrial operations that have machining operations such as metal cutting, grinding, milling, etc., use coolants for product consistency and operational durability. Therefore the quality of the machining coolant is an essential factor for efficient machining operations.
Many companies do not continually measure the contamination levels in their machining coolants. They have learned by trial and error that by changing the coolant once a month or so, no problems will occur in the following machining stages.
Changing coolants just because they are dirty is an old-fashioned approach. It is also a messy and time-consuming task. With an industrial fluid centrifuge, you can control the contamination in the coolant tank.
There are many benefits to Clean Machining Coolant.
Coolant Centrifuge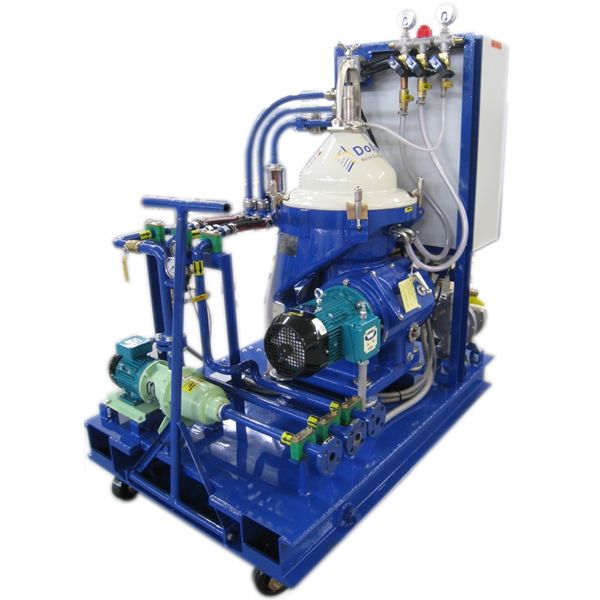 A machining coolant centrifuge is an industrial disc centrifuge that effectively removes tramp-oil and sediment from the coolant continuously. It is a mechanical separator that uses centrifugal force to separate water-based coolants from denser metal particles.
Operation
A machine coolant centrifuge exerts a very high centrifugal force of over 7,000 Gs on the contaminated coolant. As a result, the small metal particles (down to 1-micron) accumulate on the bowl wall from where they are self-ejected.
The lighter coolant (free of contaminants) exits the centrifuge continuously through the fluid outlet passage.
Advantages of a coolant centrifuge:
Savings: Centrifuge allows re-use of machining coolant.
Disposal: Recycling reduces disposal costs considerably.
Quality: Cleaner coolant leads to higher quality finished products.
Reliability: Contaminant removal leads to the durability of process equipment.
Health: Reduces bacterial contamination, which can cause health issues.
In summary, an industrial fluid centrifuge offers several advantages, especially for larger-scale handling of cutting fluids.
Disadvantages
Despite the advantages listed above, there are certain disadvantages to centrifuges for coolant recycling. The following are some of the limitations of centrifuges.
Capital Cost: Coolant centrifuges are capital-intensive equipment. Though their payback period is relatively short, the initial cost can be daunting to first-time customers.
Sophisticated Construction: An industrial centrifuge is a high-speed machine that has intricate moving parts. It is a mechanical separating machine that requires maintenance. Comparatively, a filter is much simpler to operate than a centrifuge.
Auxiliary Utilities Needed: A self-cleaning centrifuge requires clean, potable water to operate the sludge ejection system. In addition, a centrifuge may also require compressed air (for sludge pumps). Filters don't need these additional utilities.
Specifications
The following table summarizes the specifications of a typical, medium-capacity coolant centrifuge.
| | |
| --- | --- |
| Centrifuge Model | Alfa Laval WSPX 307TGD-71G |
| Centrifuge Type | High-Speed, Self-Cleaning, Disc Stack |
| Coolant Processing Capacity | 28 GPM* |
| Bowl Speed | 8,375 RPM |
| Motor HP | 10 HP |
| Max. Solids | 32 Gal/ Hr |
| Weight | 1,500 Lbs |
| Size | 30" x 52" x 54" (H) |
What is Tramp Oil?
Water-based coolants get contaminated with oil from hydraulic machinery, metal coating, machine tools, etc. This oil accumulates in the coolant forming a floating layer is known as tramp oil.
The following is a list of common problems associated with tramp oil in coolants.
Health Issues: Tramp oil floats on top of the water-based coolant, which causes anaerobic bacteria to grow. This bacterial growth is the cause of health issues such as dermatitis for machine operators.
Product Quality: When Coolants are contaminated with tramp oil, they lose some of their lubrication and cooling properties.
Equipment Issues: Tramp oil causes reliability problems for auxiliary equipment designed to work with machine tools using coolants such as pumps, filters, etc.
A tramp oil centrifuge is an industrial, 3-phase centrifuge designed to separate tramp oil from water-based coolants. It is a pass-through type of centrifuge that can separate the tramp oil from the coolants producing fresh, reusable machining coolant.
Operation
A high-speed, disc-stack centrifuge produces over 7,000 gravity forces to continuously separate the tramp oil and solid particles from the machining coolant. The high g-force forces the heavy metal sediment to the bowl wall,
It also concentrates the light tramp oil in the rotating bowl's center, which comes out the center fluid passage; the clean coolant discharges through the outer fluid passage.
Specifications
| | |
| --- | --- |
| Centrifuge Model | Alfa Laval WSPX 303-TGP-34 |
| Centrifuge Type | High-Speed, Self-Cleaning, Disc Stack |
| Lube Oil Capacity | 2 GPM |
| Coolant Capacity | 3 GPM* |
| Bowl Speed | 8,500 RPM |
| Motor HP | 3 HP |
| Voltage | 230 / 460; 3-Phase |
| Weight | 1,500 Lbs |
| Size | 36" x 48" x 50" (H) |
Have you heard of pasteurizing machining coolant? It helps eliminate the bacteria in coolants. Read our detailed article about machining coolant recovery using a disc centrifuge and pasteurization.
Coolant Centrifuge Photo-Gallery