Liquid Humus Centrifuge | Commercial Scale Production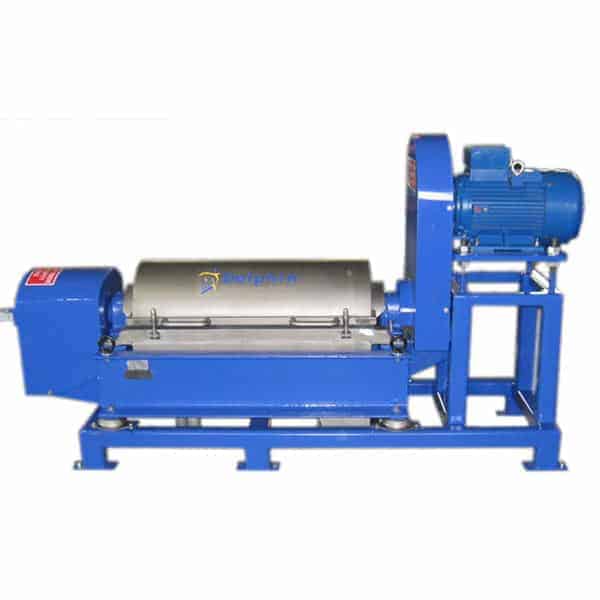 Table of Contents
Liquid humus fertilizer – How is it made?
To produce liquid humus, you first mix organic humus with water to make a slurry. After a predetermined residence time, you separate the water from the humus biomass. The separated water carries all the minerals and nutrients from the humus. This fluid is liquid humus.
Large-scale production of liquid humate
For large-scale production, mechanical separation of humus biomass is the most efficient way to produce liquid humus. An industrial centrifuge separates humus biomass from the water on a commercial scale. High centrifugal force is very efficient for separating biomass solids from the slurry.
A decanter is a high-capacity, flow-through type centrifuge, separating a large proportion of humus biomass (up to 50%) from water. This continuous process produces liquid humus fertilizer and dry humus biomass. The centrifuge model shown is an Alfa Laval NX 314 Stainless Steel Decanter Centrifuge for continuous humus dewatering.
Lab Scale Centrifuge Testing
Small volumes of humic acid were processed through a lab-scale disc stack centrifuge to evaluate the separation efficiency of the centrifuge. The following photograph shows the results of the testing.
The following photograph shows the contents of the disc stack centrifuge bowl that has retained all the solids from the humic acid sample.
Specifications
| | |
| --- | --- |
| Application | Humus Fertilizer Separation |
| Capacity | 30 GPM on Liquid Humus Slurry |
| Motor Power | 15 HP |
| Material Of Construction (MOC) | 316L Stainless Steel |
| Dimensions | 8′ (L) x 4′ (W) x 4′ (H) |
| Weight | 2500 Lbs |
| Max. G-Force | 3150 G |
| Max. Bowl Speed | 4,000 RPM |
| Expected Solids Dryness | < 5% Moisture |
Higher capacity decanters are available – contact Dolphin Centrifuge for details.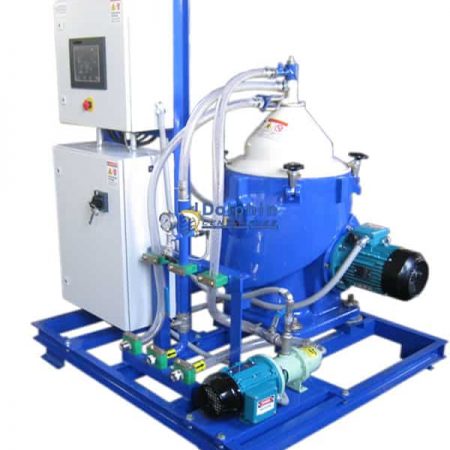 Humus clarifier centrifuge
Humus clarifier centrifuge
The separated water from the decanter has small amounts of suspended humus particles. Separating these particles is necessary to produce the final liquid humate fertilizer.
A liquid humus centrifuge exerts up to 12,000 g's of centrifugal force. These centrifuges separate particles down to 1 µm level. A disc stack type 'polishing' centrifuge downstream of the decanter produces a clear centrate – ready for sale!
This production step of centrate clarification is like the one used for
algae harvesting
.
Dolphin Centrifuge has tested multiple liquid humus samples through our pilot-scale centrifuges
.
Contact Dolphin
to discuss how an industrial centrifuge could enhance your humus fertilizer production.
Alfa Laval 40 GPM Self-Cleaning Centrifuge


Technical Specifications
Capacity
40 GPM on Humus Separation
Motor Power
10 HP
Voltages
230 / 460 3-Phase
Size
4' x 5'
Weight
2,500 Lbs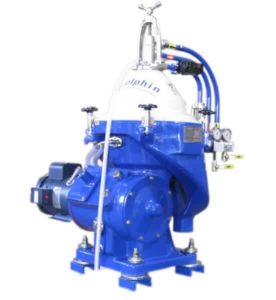 Alfa Laval 15 GPM Self-Cleaning Centrifuge
Alfa Laval 15 GPM Self-Cleaning Centrifuge


Technical Specifications
Capacity
15 GPM on Humus Liquid
Motor Power
5 HP
Voltages
230 / 460 3-Phase
Size
4' x 5'
Weight
1,500 Lbs
Alfa Laval 25 GPM Self-Cleaning Centrifuge


Technical Specifications
Capacity
25 GPM on Humate Separation
Motor Power
7.5 HP
Voltages
230 / 460 3-Phase
Size
4' x 5'
Weight
2,000 Lbs