Centrifuges for Diesel & Lube Oil

Lube oil can be contaminated by condensate, by leaks from cooling systems or by salt water entering the crankcase. It can also be affected by sludge particles originating from the combustion process or wear on moving parts. Dolphin lube oil centrifuges remove all these contaminants & water, resulting in clean lubricating oil.
What is a Lube Oil Centrifuge?
Centrifugal separators used for the separation of free-water and fine-sediment from lubrication oil are known as Lube Oil Centrifuges.
Typical Oil Purification Setup
As shown in the diagram, centrifugal oil separators are typically installed in a 'kidney-loop' arrangement. The contaminated oil is drawn from the operating (day) tank to the centrifuge through a electric pre-heater. Pre-heating of the oil reduces the viscosity to allow for optimum separation efficiency from the centrifuge. The centrifuge continuously separates the free-water and solids (down to 0.5µ).
The separated water is drained out of the centrifuge. The separated solids are retained in the centrifuge bowl ('manual clean' centrifuge) to be manually evacuated periodically. Or the separated solids are intermittently ejected from the bowl (self-cleaning) – in 'self-cleaning' centrifuges.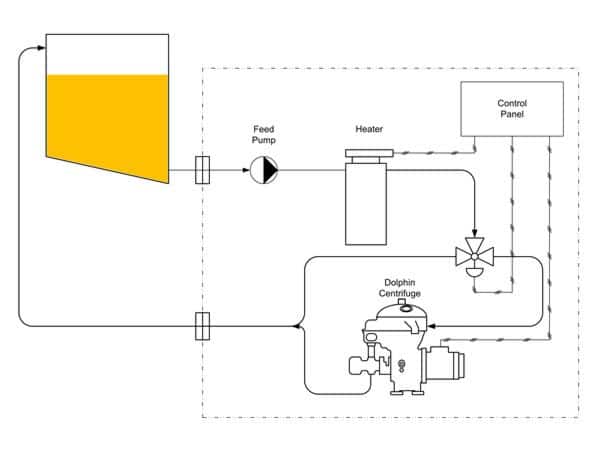 Centrifuge For Diesel & Fuel Oil
Reliable engine performance and prolonged engine life demand clean fuel oils. Based on the centrifugal separator, Dolphin fuel and lube oil treatment systems are designed to protect your engine equipment. They have proven their efficiency and reliability in engine rooms worldwide for decades. Installed between the storage tank and the day tank, Dolphin diesel purifiers protect diesel engines by removing water and sludge particles from the fuel.
For heavier fuel and crude oils, Dolphin Centrifuge supplies a wide range of self-cleaning purifiers. These are available as separate modules, and include pre-heaters and starter and control panels. 
Features and benefits
Simple, compact and robust design
Constant efficiency in removing solids and water
No pre-filtration necessary
Environmentally friendly sludge disposal (no cartridges)
Automatic, unattended operation by PLC Controls
Low operating cost
Easy maintenance
Reliability and long working life
Small Centrifuges for Diesel Purification on Work boats
Small foot-print centrifugal disc separators are designed for diesel & engine oil purification on vessels such as tugs, barges, yachts etc. Typically installed on day-tanks, these oil separators remove the water and sediment contamination providing a supply of clean fuel & lubricating oil to the engines. Hover below for specs on fuel & lube oil centrifuge of different capacities.