Diesel Fuel Centrifuge | Sludge & Water Separator
Table of Contents
Diesel Fuel Centrifuge
Rust sediment and sludge from storage tanks contaminate diesel fuel. Condensation in tanks causes water contamination. Alfa Laval diesel centrifuges separate all the solid particles & moisture from diesel fuel. Clean diesel fuel is essential for the trouble-free operation of engines.
Contaminant-free fuel is essential for reliable engine performance. Alfa Laval diesel fuel centrifuges are designed to protect your engine room equipment by maintaining a clean diesel supply.
They have proven their efficiency and reliability and have been used worldwide for decades. These Alfa Laval diesel centrifuge modules keep the diesel fuel clean when installed between the storage tank and the day tank.
For heavy fuel and crude oils, Dolphin Centrifuge supplies a wide range of self-cleaning fuel purifiers. These are available as separate modules and include per-heaters and starter and PLC control panels.
A recent application using diesel fuel purifier for large scale black diesel recovery was supplied by Dolphin using Alfa Laval disc stack centrifuge (self-cleaning type).
How does a diesel centrifuge work?
Diesel centrifuge operation can be simply explained as follows. Under the extremely high centrifugal force inside the rotating bowl, the water & sludge are spun out towards the outer periphery of the centrifuge bowl while the clean diesel moves inwards and is continuously discharged through a 'light-phase' outlet.
The water is collected and discharged through a separate passage from the bowl periphery. The separated sludge is periodically ejected by the 'self-cleaning' mechanism built into the bowl.
Specifications
Centrifuge Type
Alfa Laval Self-Cleaning, Disc Stack
Centrifuge Efficiency
Solid Particles > 1 µ ; Free Water > 2 µ
Model
MOPX205
MOPX207
MOPX213
Bowl Speed
7,600 RPM
6,300 RPM
4,140 RPM
Rated Capacity
20 GPM
32 GPM
90 GPM
Diesel Capacity
14 GPM
21 GPM
61 GPM
Sludge Space
0.38 Gal
1.03 Gal
3.61 Gal
Motor Power
5 HP
7.5 HP
15 HP
Dimensions
4′ x 4′
4′ x 5′
5′ x 6′
Weight
1,500 Lbs
2,500 Lbs
4,000 Lbs
Diesel Purification on Work-boats
Small foot-print Alfa Laval diesel centrifuges are designed for fuel & engine oil purification on vessels such as tugs, barges, yachts, etc.
Typically installed on day-tanks, these centrifugal diesel purifiers remove the water and sediment contamination supplying clean fuel while keeping the lubricating oil clean.
Shown at the bottom are diesel centrifuge packages of different capacities featuring Alfa Laval centrifuges.
Systems for Sale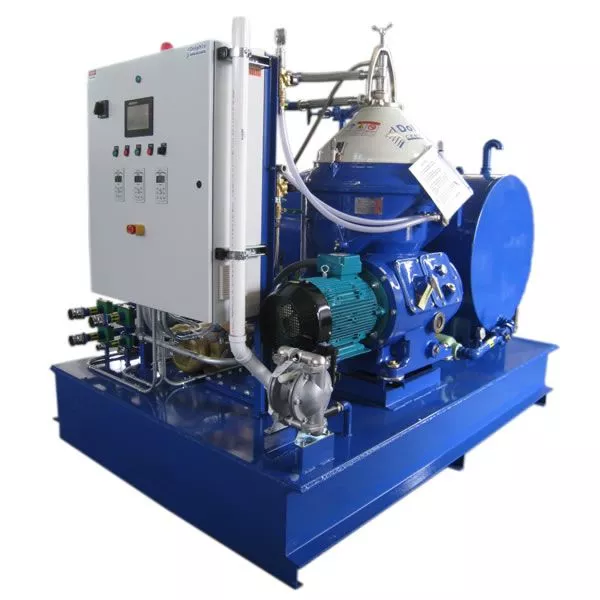 Alfa Laval MOPX 210 Specifications
| | |
| --- | --- |
| Flow-Rate | 30 GPM on Diesel |
| Motor | 10 HP |
| Voltage | 230 / 460 V 3-Ph |
| Size | 5' x 6' x 8' (H) |
| Weight | 4,000 Lbs |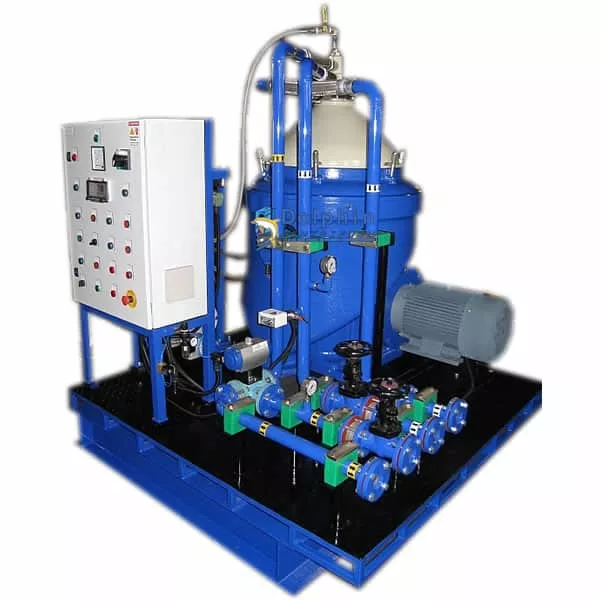 Alfa Laval MOPX 213 Specifications
| | |
| --- | --- |
| Flow-Rate | 60 GPM on Diesel |
| Motor | 15 HP |
| Voltage | 230 / 460 V 3-Ph |
| Size | 6' x 6' x 8' (H) |
| Weight | 5,000 Lbs |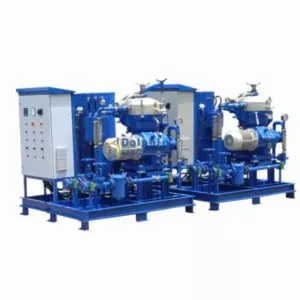 Alfa Laval MAB 206 Specifications
| | |
| --- | --- |
| Flow-Rate | 26 GPM on MDO |
| Motor | 7.5 HP |
| Voltage | 230 / 460 V 3-Ph |
| Size | 5' x 6' x 5' (H) |
| Weight | 2,000 Lbs |