Industrial Washer Fluid Centrifuge | Continuous Oil and Solids Removal
Table of Contents
What is Industrial Washer Fluid?
Washer fluids are widely used in industries to prepare components for downstream processing. Metal plating, paint, and surface coating are some of these applications which require a clean surface. Therefore, these fluids' purity is critical for these industrial processes. Industrial parts washers also use washer fluids to clean machined parts.
Washing liquids pick up contaminants such as oil and sediment during cleaning. Over time, building these contaminants degrades the purity of the fluids, affecting product quality.
Adding detergents and using higher temperature fluids is a workaround for replacement. However, this adds to operating costs and is detrimental to end-product quality.
Frequent replacement of washing fluids ensures reliable downstream product quality but comes at a high cost. The cost of new fluid and disposal cost of the used fluid needs serious consideration for this approach.
Washer Fluid Centrifuge
An industrial centrifuge designed to separate liquid and solid contamination from washer liquids is known as a washer fluid centrifuge. It is a three-phase centrifugal separator that removes oil and sediment from water-based wash fluids to extend its lifetime.
This centrifuge maintains oil and particle contamination at a low level continuously without any degradation of fluid quality or cleaning ability. It can also extend the service life of washing liquids up to 20 times compared to untreated liquids.
Benefits
Centrifugal separation has several benefits when used to clean industrial washing liquids. Some of these benefits are:
Reduced purchasing cost for replacement fluids
Minimized disposal costs
Reduced break-down of downstream equipment
Improved final product quality
Less labor cost from tank cleaning activities
Affect of Using a Centrifuge
The blue line shows the replacement frequency of wash fluid once it reaches the maximum contamination level in the graph shown below. This is a repeated and expensive process. The red line reflects the consistent fluid quality maintained by the centrifuge.
Specifications
Centrifuge Type
Alfa Laval Self-Cleaning, Disc Stack
Centrifuge Efficiency
Solid Particles > 1 µ ; Free Water > 2 µ
Model
WSPX-303
WSPX 207
Bowl Speed (RPM)
8,500
6,300
Rated Capacity (GPM)
15
32
Wash Fluid Capacity (GPM)
8
15
Sludge Space (Gal)
0.31
1.03
Motor Power (HP)
4
7.5
Skid Dimensions (ft)
3' x 4'
5' x 6'
Skid Weight
1,200
3,000
* Specifications are for base skids without any options. 
Washing Liquid Centrifuge Features and Sizing
Specially designed centrifuges known as concentrators are ideal for purifying washing liquids. These centrifuges are modified to handle large volumes of the heavy phase (waster-based fluid) and small oil volumes.
The typical rated capacity should be de-rated by about 50% of the nominal capacity to size an appropriate centrifuge. As the centrifuge specification listed above shows, a centrifuge sized for 15 gallons per minute of rated capacity will process approximately 8 gallons/minute on water-based cleaning fluids.
Application - Case Study
Background
A southwest-based manufacturer of industrial fittings has a pre-treatment process to remove dirt, oil, and grease from the fittings before the finishing processes. The washing system used an industrial washer fluid to rinse the fittings.
The Problem
Their detergent-based cleaning fluid tank had a capacity of 5,000 gallons. The washing liquid would reach a peak contamination level every three months, where the entire 5,000 gallons of liquid would be replaced. This change of fluid was expensive for three reasons. 
Firstly, the replacement cost of the washing liquid was high. Secondly, the disposal cost to haul away the dirty liquid added to operational costs. And finally, the fluid holding tank had to be cleaned before replenishing. This was a time and labor-intensive operation.
The Solution
The company contacted Dolphin Centrifuge to investigate the possibility of using a wash-water centrifuge to address the costs of their washing fluid.
Dolphin tested a small sample of the customer's wash water through a pilot-scale centrifuge. The separation effectively removes all hydrocarbons and dirt to produce clean washer fluid ready for reuse.
The customer decided to install a Dolphin Centrifuge wash-water centrifuge module based on the test results. The service life of the washer fluid immediately went up to 6 months from the previous two months. The disposal costs were almost eliminated due to the sludge separated by the centrifuge being a small fraction of the previous disposal volume.
Additionally, the fluid storage tank had minimal sludge accumulation, which led to additional time and labor savings. In total, the savings generated within the first six months recuperated the manufacturer's cost of the centrifuge system!
Washer Fluid Centrifuge Systems for Sale
Shown at the bottom are wash-water centrifuge packages of different capacities featuring Alfa Laval centrifuges.
Alfa Laval WSB-104 Washer Fluid Centrifuge
Alfa Laval WSB 104 Concentrator
Manual Cleaning æ Disc Stack Centrifuge
Technical Specs
Capacity: 3 GPM on Parts Washer Fluid
Motor HP: 2 HP
Voltages: 110V / 230V / 460V
Skid Dim.: ~ 3′ x 4′
Skid Wt.: ~ 600 lbs
Alfa Laval WSPX 303 Concentrator
Alfa Laval WSPX 303 Concentrator
Self Cleaning æ Disc Stack Centrifuge
Technical Specs
Capacity: 8 GPM on Parts Washer Fluid
Motor HP: 4 HP
Voltages: 230V / 460V
Skid Dim.: ~ 3′ x 4′
Skid Wt.: ~ 1,200 lbs
Alfa Laval WSPX 207 Self-Cleaning Centrifuge
Self-Cleaning æ Disc Stack Centrifuge
Technical Specs
Capacity: 15 GPM on Wash Water
Motor HP: 7.5 HP
Voltages: 230V / 460V
Skid Dim.: 6′ x 5′
Skid Wt.: ~ 3,500 lbs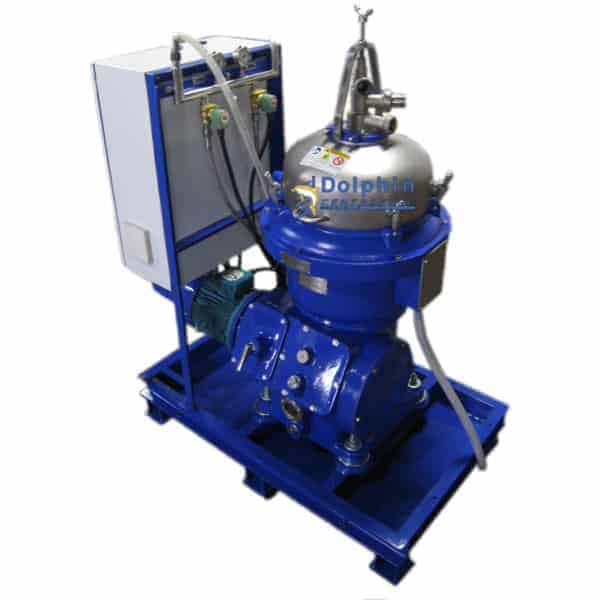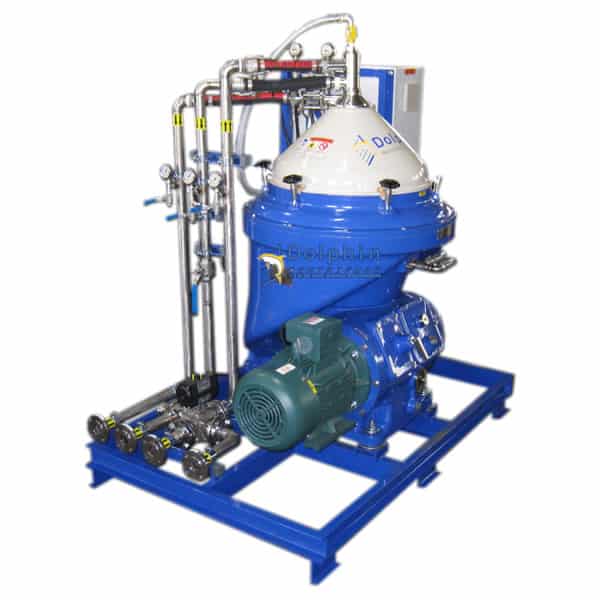 Alfa Laval WSPX 213 Centrifuge Module
Alfa Laval WSPX 213 Concentrator Centrifuge
Self-Cleaning æ Disc Stack Centrifuge
Technical Specs
Capacity: 40 GPM on Water-Based Fluids
Motor HP: 15 HP
Voltages: 230V / 460V
Skid Dim.: 5′ x 6′
Skid Wt.: ~ 4,000 lbs