Fuel Oil Centrifuge | HFO Sludge & Water Separator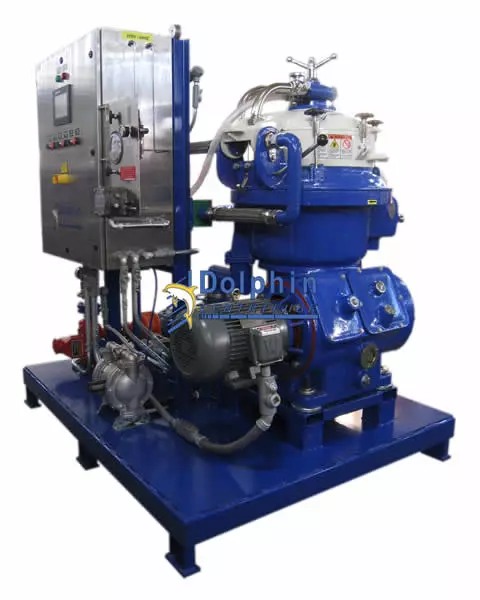 Table of Contents
Fuel Oil and Heavy Fuel Oil (HFO)
Depending on the oil's viscosity, fuel Oil is also referred to as Heavy Fuel Oil. Both are thick, viscous fuels with high specific gravity. By definition, any petroleum-based fuel with a specific gravity higher than 0.90 and viscosity exceeding 180 cSt at 50°C is heavy fuel oil (HFO).
Marine engines and oil-fired captive power plants use HFO as fuel. The comparatively low cost of heavy fuel oil makes it fuel for commercial power generation and propulsion.
Heavy fuel oil is the leftover remains of crude oil after distilling all the lighter and more valuable fuels (diesel, gasoline, naphtha, kerosene, and distillate).
Fuel oil is viscous and is not pumpable at ambient temperature. The heating of heavy fuel oil is necessary for separation and subsequent use in engines.
Why Purify Fuel Oil?
As mentioned above, fuel oil is the left-over distillation tower in the refining process of crude oil. Therefore, it contains high amounts of crude oil sludge. This sludge, if left untreated, causes severe problems for the engine using this fuel oil.
Condensation and seepage are a source of water contamination of fuel oil. This water can also cause engine performance issues if left in the fuel oil untreated.
Based on the reasons mentioned above, pre-treatment of fuel oil is critical for reliable engine performance with minimal breakdowns.
A centrifugal fuel oil separator is the most reliable and proven method to purify fuel oil as a pre-treatment method.
Fuel Oil Centrifuge
A fuel oil centrifuge is a disc-stack centrifuge configured to separate fuel from water and sludge. Raw fuel oil contains water and sludge and cannot be used directly in engines. A fuel oil separator centrifuge uses centrifugal force to remove the sediment and free water from the fuel.
Dolphin Centrifuge's fuel oil centrifuges are fully automatic systems for the purification of light & heavy fuel oils. They feature Alfa Laval self-cleaning disc stack centrifugal separators.
The separation process is essential to remove contaminants such as heavy metals (vanadium, sodium, potassium, etc.) and water and fuel sludge before using the fuel.
---
If you have simple, routine questions: We have condensed our 40+ years of disc-stack centrifuge experience into 101 Frequently Asked Questions about Disc Stack Centrifuges!
---
Applications
Contaminated fuel oil can cause premature failure of engine & turbine components due to corrosion, clogging, and erosion of the fuel system.
Properly cleaned and treated fuel is usable in various gas turbines and IC engine power plants.
Examples of Fuel Oil centrifuge applications include cogeneration power plants, marine transportation vessels, fuel storage facilities, backup fuel oil generator tanks, etc.
Benefits
There are multiple benefits to using centrifuges for the purification of fuel oils. Some of the important benefits are listed below.
Meet turbine manufacturers' fuel quality requirements
Consistent fuel quality
No pre-filtration required
Reduced sludge volume for disposal (no filter cartridges)
Fully automatic operation (minimal labor)
No filter media-related costs
Specifications
Alfa Laval Self-Cleaning, Partial Discharge, Disc Stack Centrifuges

Application

Removal of Water & Sludge from Fuel Oil

Centrifuge Efficiency

Solid Particles > 1 µ ; Free Water > 2 µ

Model

FOPX 605 TFD 24
FOPX 610 TFD 24
FOPX 613 TFD 24

Bowl Speed

7,600 RPM
5,180 RPM
4,140 RPM

Rated Capacity

21 GPM
68 GPM
105 GPM

Fuel Oil Capacity 30 cSt / 50C

12 GPM @ 190 F
42 GPM @ 190 F
65 GPM @ 190 F

Fuel Oil Capacity 100 cSt / 50C

10 GPM @ 190 F
32 GPM @ 190 F
47 GPM @ 190 F

Fuel Oil Capacity 700 cSt / 50C

3 GPM @ 200 F
14 GPM @ 200 F
20 GPM @ 200 F

Sludge Space (Gal)

0.36
1.6
3.8

Motor Power (HP)

5
15
20

Skid Dimensions (ft)

4′ x 4′
4′ x 5′
5′ x 6′

Skid Weight (Lbs)

1,700
3,500
4,200
* Specifications are for base skid without any options.
Dolphin Fuel Oil Treatment System
Dolphin-designed and manufactured fuel oil system process untreated fuel oil through a pre-filtration and pre-heating system to the Alfa Laval, three-Phase, disc-stack centrifuge.
The heated oil has a much lower viscosity conducive to easier centrifuge separation. The extremely high centrifugal force within the separator bowl slings out the water and sludge from the oil.
The centrifugal purifier internally pumps the separated clean fuel oil to a local storage tank, which feeds the turbine or engine.
Fuel Oil Module with Remanufactured Alfa Laval MOPX 210 Centrifuge
| | |
| --- | --- |
| Capacity | 30 GPM on ISO 180 |
| Motor | 10 HP |
| Voltages | 230 / 460 V 3-Ph |
| Size | 5' x 5' |
| Weight | 2,800 Lbs |
| Bowl RPM | 5,150 |