Alfa Laval WSPX 307 Self-Cleaning, Coolant Centrifuge
The Alfa Laval WSPX-307 Disc Centrifuge is a 3-phase separator designed to separate tramp oil and small particles from machine coolant.
The centrifuge bowl rotates at 8,600 RPM exerting over 7,000 G-Force. It is a small centrifuge ideal for cleaning wash liquids, coolants, and de-oiling of water.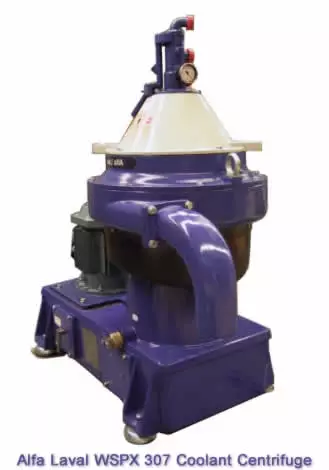 Specifications
| | |
| --- | --- |
| Model Type | Alfa Laval WSPX 307 TGD |
| Rated Capacity | 22 GPM |
| Sludge Space | 0.87 Gallons |
| Motor HP: | 10 HP |
| Voltages: | 230 / 460 V |