Table of Contents
---
Synopsys
Dolphin Centrifuge designed and manufactured a complete Yellow Grease purification centrifuge system featuring an Alfa Laval 'Self-Cleaning' Disc-Centrifuge. We supplied the system to a yellow-grease (UCO) collection company. The following is a case study of this particular application of a Yellow Grease centrifuge for large-scale processing.
Case Study of Centrifuge on Yellow Grease Processing.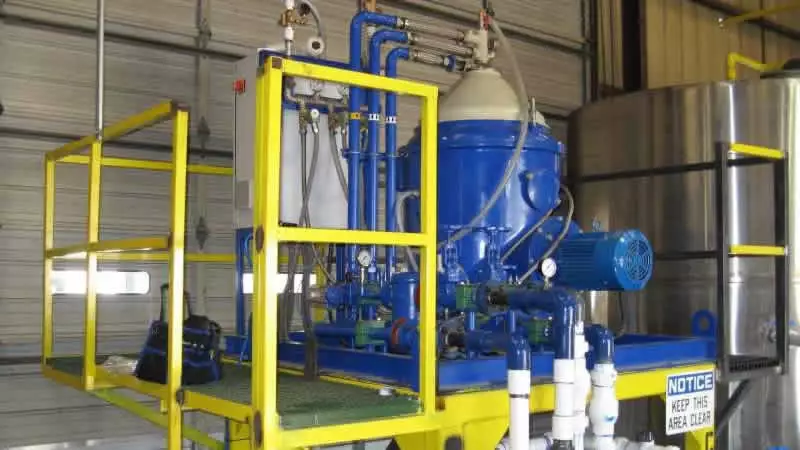 Customer Background
A large-scale, mid-west waste oil collection company processed 6M gallons per year. They collect waste oil consisting of grease trap waste, UCO, yellow grease, restaurant slop oil, fryer oil, etc.
The company used the age-old heating method and settling to get good oil from their collected yellow grease. In this process, the processor heats the yellow grease and allows it to settle under gravity. They then decant the clean oil off the top, leaving the 'rag layer' (emulsion), water, and sludge in the tank.
Disadvantages of Heating and Settling
There are many challenges with the Heating & Settling method of purifying yellow grease. Some of these are listed below.
Settling under gravity takes time – it is a slow process.
Settling also requires storage volume – more investment in tanks.
Heating large volumes of crude yellow grease are energy-intensive.
Decanting clean oil leaves a lot of 'good' oil in the tank bottom.
Cleaning tank bottoms are essential to reclaiming storage volume.
Disposal costs are associated with a large volume of tank bottom waste.
Centrifuge Selection and Validation Process
The yellow grease company contacted Dolphin Centrifuge in mid-2018. They wanted to investigate using an industrial centrifuge to improve their process efficiency.
The customer provided a detailed process flow diagram (PFD) to Dolphin Centrifuge. The PFD provided details on their existing facility, equipment, and process.
Customer Sample Testing
Dolphin Centrifuge has extensive experience with WVO processing. Based on our experience, we suggested lab-scale centrifuge testing of the customer's WVO sample.
As part of this process, we run a small sample of the process fluid through our small-scale disc stack centrifuge. This is a 3-phase centrifuge that separates water, oil, and sludge.
If confirmed by pilot-scale testing, phase separation assures the customer of disc stack centrifuges' applicability for their process.
Yellow Grease Sample Testing Results
The test results showed excellent separation at an optimum process temperature of 180F. The test simulated a flow rate of about 40 GPM. This was the customer's preferred throughput rate in production.
The customer compared the clean oil from the test centrifuge with their product. The disc-stack centrifuge produced a much better product. The centrifuged clean oil had no sludge and < 0.05% water!
Based on the test results, Dolphin offered a detailed technical proposal for an oil centrifuge system. Dolphin also provided an improved PFD for the customer's existing plant. The intent was to repurpose some of the existing pre-straining equipment.
The quality of the purified yellow grease and centrifuge-related cost savings convinced the customer to order the centrifuge system.
Installation, Startup, and Benefits
Dolphin Centrifuge designed and manufactured a complete, turn-key centrifuge system. It has the capacity to process 30,000 gallons of yellow grease per day.
The customer installed the centrifuge system at their facility under our guidance. After installation, Dolphin engineers helped startup the centrifuge system at the customer's site.
The customer soon realized labor (decanting, changing filters, etc.) and material cost savings (filter media). The customer could recoup the capital investment in less than six months of installation!
The ~30% increased throughput was an extra benefit. Their annual throughput was on track to reach 8M gallons.
The centrifuge also eliminated some of the settling tanks.
The featured image (on top) shows the centrifuge supplied for yellow grease processing at 40 GPM.
Specifications
The following table lists the specifications of the Alfa Laval WHPX-510 centrifuge supplied for yellow grease recovery.
| | |
| --- | --- |
| Centrifuge Model | Alfa Laval WHPX-510 TGD-24-60 |
| Centrifuge Type | High-Speed; Self-Cleaning; Disc Stack |
| Design | Continuous Flow; Flow-Through |
| Bowl Speed (RPM) | 5,150 |
| G-Force (Gs) | 7,800 |
| Separation Efficiency (µ) | 0.5 Micron Solids; 2 Micron Free Water |
| Rated Capacity | 30 GPM on Yellow Grease @ 180 F |
| System Size | 5' x 6' x 7' (H) |
| Weight (Lbs) | 4,500 |
| Drive Motor Power | 15 HP |
Centrifuge Options
Listed below are the added options for this yellow grease separation system.
Centrifuge Capabilities
The centrifuge can 3-Phase separation of yellow grease to remove all free water and sediment down to 0.5µ. The system can process up to 30 GPM of yellow grease at 180 F to separate all free water and sludge.
Conclusion
In summary, an industrial centrifuge is an ideal solution for purifying yellow grease. As detailed above, it is cost-efficient for large-scale purification of yellow grease.
Contact Dolphin Centrifuge for more information or to discuss your particular application with our centrifuge experts!
by Sanjay Prabhu MSME
Engineering Manager, Dolphin Centrifuge