Disc Stack Centrifuge for Offshore Applications: Uses, Specifications & Capacities
Applications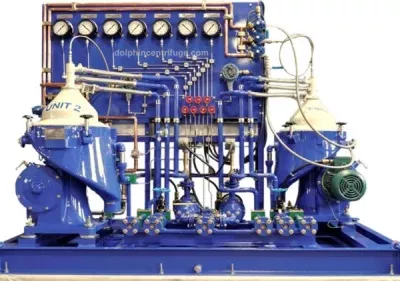 Offshore applications of disc stack centrifuges use these separators on offshore oil and gas platforms. These centrifuges perform various separation duties essential for the regular operation of such platforms.
Some of the leading centrifuge applications are listed below.
Diesel Fuel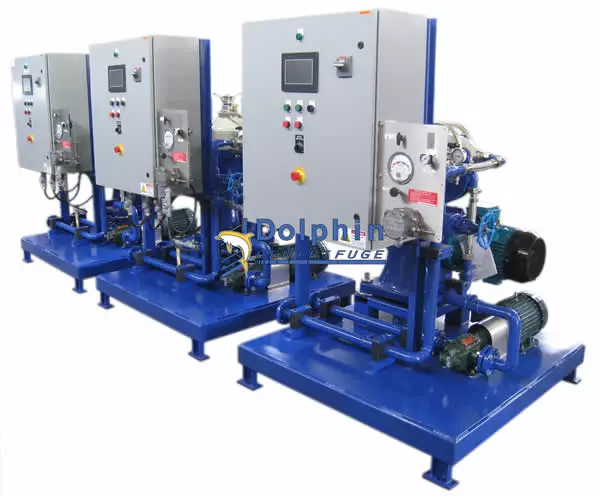 Diesel fuel is the primary fuel source for generators on offshore facilities that provide electricity to operate the platform. Offshore platforms store diesel fuel in tanks. The rust and moisture condensation contaminate the diesel fuel.
An industrial centrifuge of the disc-stack type is ideal for separating the rust particles and accumulated water from the diesel. Therefore, the centrifuge is responsible for maintaining clean fuel for the generators on all offshore platforms.
The disc stack centrifuge continuously separates the water and sludge from the diesel fuel with its flow-through design. The centrifuge is typically installed in a kidney loop configuration to maintain diesel with minimum contamination.
Engine Lube Oil
As previously mentioned, IC engines are the primary power source for offshore platforms. The lube oil in these engines requires maintenance for the reliable operation of these engines.
During the engine's regular operation, wear particles from the bearing, and combustion blowback contaminates the engine lubricating oil. Often, leakage from the cooling water system can contaminate the lube oil.
A disc stack centrifuge configured for lube oil purification effortlessly separates the water, fine metal, and soot particles from the lube oil.
An offshore oil and gas platform generates wastewater contaminated by various sources. The platform cannot discard this contaminated water into the ocean without separating the oil from it.
An Alfa Laval disc stack centrifuge specially designed for bilge water separates even trace amounts of oil from the wastewater and any solids contamination. The centrifuge processing of the wastewater allows for the direct disposal of clean water into the ocean.
Special Considerations
The offshore platform installations offer several challenges for equipment. The environment is a crucial factor in such applications. Also, these platforms primarily process hazardous fluids (oil) and gases that require special consideration from a hazardous area installation standpoint.
Electrical
The electrical classification for hazardous locations follows regional standards set by established governing bodies, including government institutions. These are primarily known as Explosion Proof centrifuges.
For example, the classifications in the US fall into classes (Class 1, 2, etc.) and divisions such as Div 1, 2, etc. In Europe, these areas are zones based on hazardous fluid or gas exposure.
In our Explosion Proof Centrifuge article, you can read more about the various hazardous area segments.
Environmental
Due to salt, the offshore platform's equipment is exposed to high humidity levels and a corrosive environment. Therefore, the design of disc centrifuges for offshore platforms should encompass these environmental factors.
Corrosion-resistant coatings and materials are a must for such centrifuge systems. Durable epoxy coatings (paint) applied over multiple layers work well under such conditions.
The use of stainless steel piping is desirable to prevent equipment piping corrosion for the centrifuges' longevity.
Other considerations, such as specially protected sensors and instrumentation, ensure the reliable performance of the centrifuges.
FAQ
Do standard centrifuges need modifications for offshore use?
Centrifuges configured for typical uses need to be modified for offshore use specifically to make them suitable for hazardous duty applications.
What type of motors do offshore disc stack centrifuges use?
Offshore disc stack centrifuges use electric motors specific to hazardous duty applications. Depending on the offshore environments, explosion-proof motors usually are preferred.
Does converting a typical centrifuge to offshore application change the size of the centrifuge?
Converting a typical centrifuge to offshore use does not necessarily change the size of the centrifuge itself. The additional auxiliaries may increase the size of the centrifuge module.
Do offshore disc stack centrifuges have all parts made of stainless steel?
Offshore disc stack centrifuges do not necessarily require all parts made of stainless steel. Offshore centrifuges do feature some non-stainless steel parts in the bowl and frame of the centrifuge. These non-stainless steel parts do cause any issues as long as they are well protected with marine-grade paint and plating for non-ferrous components.
Sizes
As with all centrifuges, offshore disc centrifuges are available in different sizes (capacities). A small lube oil centrifuge on a mobile cart can process 1 GPM of engine lube oil. A large Alfa Laval disc stack centrifuge can process over 100 GPM of diesel fuel.
It should be noted that the same centrifuge has widely varying capacities for different fluids. For example, a medium-size disc stack centrifuge that can process 20 GPM of diesel fuel will only process 8 GPM of engine lubricating oil.
Dimensions
The following table lists the typical dimensions of offshore disc stack centrifuge modules.
Capacity
As previously mentioned, disc-stack centrifuges have different processing capacities for different fluids based on the fluid's viscosity. The following table lists the different capacities of select disc-stack centrifuge models for different fluids.
| | | |
| --- | --- | --- |
| Centrifuge Model | Diesel Capacity | Lube Oil Capacity |
| Alfa Laval MAB-103 (Offshore) | 3 GPM | 1 GPM |
| Alfa Laval MOPX-207 (Offshore) | 22 GPM | 8 GPM |
| Alfa Laval WHPX-513 (Offshore) | 60 GPM | 20 GPM |
Specifications
Centrifuge Model
Alfa Laval MAB-103
Alfa Laval MOPX-207
Alfa Laval WHPX-513
Motor Power
1 HP
7.5 HP
15 HP
Bowl Speed
7,800 RPM
6,700 RPM
4,140 RPM
Centrifuge Type
Manual Clean
Self-Clean
Self-Clean
Separation Efficiency
Free Water > 2 Microns; Solid Particles > 0.5 Microns
Electrical Classifications
Class 1 Div 1 or Div 2; IEC (Atex) Zone 1 or Zone 2
Weight
225 Lbs
2,000 Lbs
3,400 Lbs
Material Of Construction (MOC)
The following table specifies the material of construction for offshore disc stack centrifuges.
| | |
| --- | --- |
| Centrifuge Bowl | 316L Stainless Steel (some marine bronze parts) |
| Disc Stack | 316L Stainless Steel |
| Frame | Nodular Cast Iron |
| Hood | Aluminum Alloy or Cast Iron |
| Inlet / Outlet Piping | Stainless Steel (Flex Hose) |
| Module Manifold Piping | Black Steel - Sch. 40 minimum |
| Valves | ASME Marine Grade Carbon Steel Valves |