Table of Contents
---
An explosion-proof stainless steel centrifuge is an Alfa Laval disc-stack type separator designed for the continuous separation of solids from liquids. This centrifuge can separate immiscible liquids for the cannabinoid and pharmaceutical industries that require explosion-proof centrifuges.
The combination of stainless steel construction and explosion-proof execution is unique for centrifuges. The stainless steel contact makes these centrifuges suitable for corrosive and food-grade applications.
Making these centrifuges explosion-proof allows their use for flammable fluids and other hazardous conditions. These conditions could include the presence of flammable gases or other explosive chemicals.
Applications
Explosion-proof centrifuges with stainless steel construction find uses in special industries and locations. Some of these applications and locations are listed below.
Refineries
Petroleum refineries are one such location where flammable gases and liquids are often present. Crude oil processing produces a range of flammable fluids such as gasoline, distillate, solvents, etc. Besides, natural gas is quite often present in and around refineries.
Therefore, refineries, in general, need the highest classification of explosion-proof centrifuge equipment.
Offshore Platforms
Offshore oil and gas platforms are locations where the presence of explosive fluids and gases is pervasive. The use is explosion-proof centrifuges in such locations is mandatory.
Also, offshore platforms are corrosive environments due to the presence of saltwater. The use of corrosion-resistant is also necessary. Stainless steel centrifuges offer a high level of corrosion resistance and are, therefore, desirable under such conditions.
Cannabinoid Production
Hemp CBD oil or Cannabis THC production uses solvents or alcohol as the primary extraction fluid. Petroleum-based solvents are highly flammable and require the use of explosion-proof centrifuges. Ethanol alcohol is also flammable though not in the same category as solvents.
Either case requires using hazardous-area suitable (C1 D2) or explosion-proof centrifuges.
CBD oil and cannabis THC extract are primarily for human consumption, which means stainless-steel food-grade centrifuges are a requirement.
Thus the processing of hemp or cannabis for extraction requires stainless-steel explosion-proof centrifuges.
Chemical Processing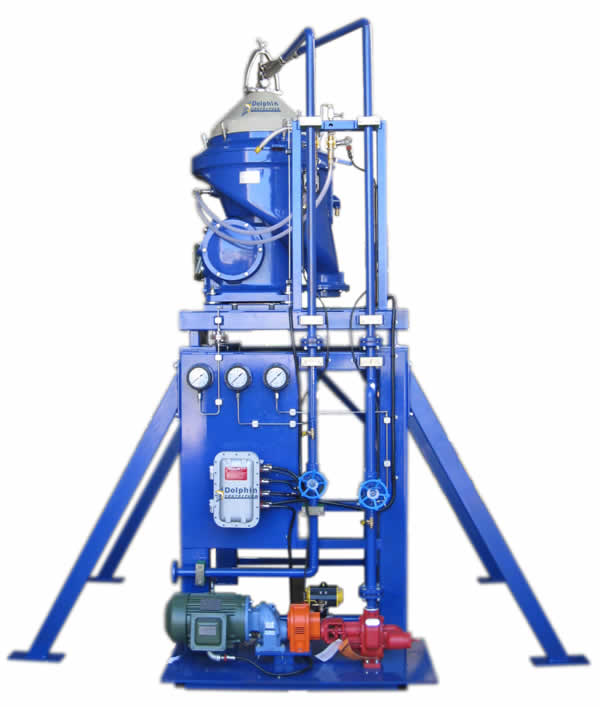 Chemical processing often uses solvents for hydrocarbon-based extraction. These applications could be precipitate extraction or solvent extraction through distillation. Since hydrocarbon solvents are present in such processing, using explosion-proof extraction centrifuges is essential.
Additionally, chemical extraction can be highly corrosive depending on the type of chemical process. The corrosive environment mandates the use of corrosion-resistant material, which is often stainless steel. Therefore, stainless-steel explosion-proof centrifuges find various applications in the chemical industry.
Operation
An explosion-proof centrifuge separates liquids from solids safely in hazardous areas with explosion-prone liquids and gases. The stainless steel centrifuge separates edible fluids under corrosive conditions. The high centrifugal force (7,000 Gs) removes sediment as small as 1 micron from flammable fluids.
Unique Features of Explosion Proof Centrifuges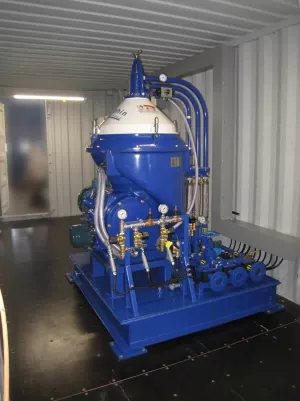 Direct Drive Transmission
Alfa Laval centrifuges, like most centrifuges, have a friction clutch to reduce the torque during the initial startup. This clutch has friction liners that wear during daily use.
These liners can wear out to the point where the base metal plate can contact the steel drum and cause sparks. Such sparking is highly undesirable in the presence of flammable fluids or vapors.
The clutch is removed, and the drive motor is directly coupled to the centrifuge transmission in explosion-proof centrifuges. This design change eliminates the possibility of sparking and is known as a direct drive.
The direct-drive centrifuge requires high startup torque to ramp up the speed of the heavy bowl assembly. Therefore, an inverter or VFD (variable frequency drive) powers the centrifuge motor for direct-driven centrifuges.
Nitrogen Blanketing
In addition to a direct-drive transmission, some centrifuges feature a nitrogen purge or the centrifuge's nitrogen blanketing. In this adaptation, we modify the centrifuge to introduce an inert (non-explosive) gas, such as nitrogen, into the centrifuge.
This inert gas purges out ambient air (containing oxygen) from within the centrifuge. The blanketing of the centrifuge with inert nitrogen eliminates the possibility of an explosion.
Special Sensors & Components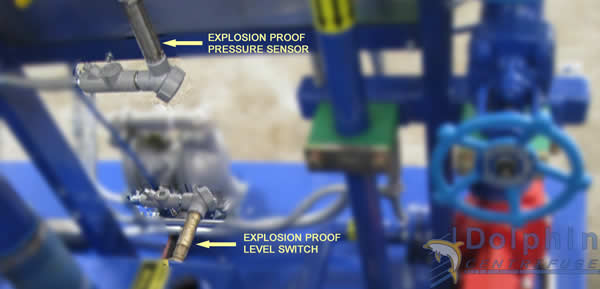 An explosion-proof centrifuge requires sensors and components such as electrically operated valves rated for areas classified as hazardous locations. These devices are available for different types of explosion-proof environments depending on the location's type and severity.
Other disc-centrifuge articles of interest......

Disc Centrifuge Backpressure - Comprehensive Guide
9 Steps to Selecting & Buying the Right Industrial Centrifuge
Centrifuge RCF and RPM | Difference & RCF Calculation
Disadvantages of a Disc-Stack Centrifuge | Illustrated Guide
Difference Between Decanter & Disc Centrifuge | Technical Comparison

FAQ
Is an explosion proof centrifuge same as a hazardous area suitable centrifuge?
An explosion-proof centrifuge is not the same as a hazardous area centrifuge. There are technical differences in the classification of applications between explosion-proof and hazardous areas. Typically an explosion-proof centrifuge would be suitable for Class 1 Division 1, whereas a hazardous area centrifuge may be suitable for Class 1 Division 2.
Are explosion proof centrifuges more expensive than standard centrifuges? If so, why?
Explosion-proof centrifuges are more expensive than standard centrifuges. The cost increase is due to the specially manufactured and certified explosion-proof components and expertise needed to make these centrifuge systems.
Are there other considerations besides electrical classifications for explosion-proof centrifuges?
In addition to electrical components, some mechanical aspects of these centrifuges need degradation to make them suitable for explosion-proof or hazardous area applications.
What is the exact explosion proof classification required for our particular application?
The exact electrical classification for each particular location and application is different. It is based on the type and location of local hazardous and the presence of explosive gases or fumes, if any.
Are there any differences between the explosion proof classifications between different geographic locations?
Each country follows a specific electrical and mechanical set of standards that define and classify the levels of hazardous are protections required based on the location and specific applications. Therefore, for example, US explosion-proof certification is not valid for European installations.
Advantages
Explosion-proof centrifuges with stainless steel as construction material offer multiple advantages over conventional centrifuges. Some of the advantages are listed below.
Operate Under Hazardous Conditions
The most significant advantage of explosion-proof centrifuges is their applicability to hazardous areas. Conventional centrifuges do not have any of the safety features of explosion-proof centrifuges and are, therefore, a safety hazard in hazardous areas.
Suitable for Food-Grade Products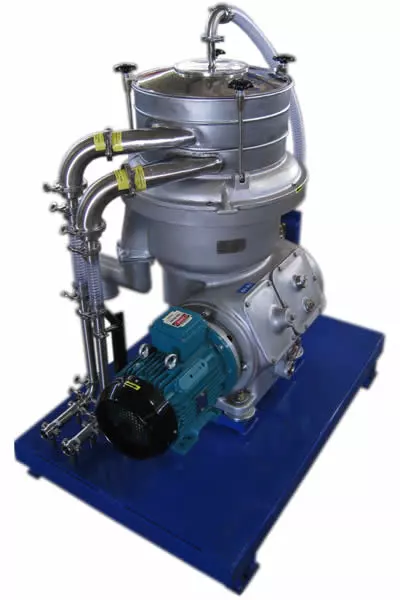 Conventional centrifuges have non-ferrous and regular steel components that contact the process fluid. In cases where the centrifuge processes edible fluids and solids (food-grade), these metals can contaminate the process fluid.
A stainless steel centrifuge has all product contact parts made of stainless steel that eliminate product contamination.
Corrosive Fluid Processing
As mentioned above, standard centrifuges have internal components that are not corrosion-resistant. This construction is a disadvantage in the case of processing corrosive fluids.
A stainless steel centrifuge has all liquid contact parts made of stainless steel, which is corrosion-resistant. Therefore, the processing of corrosive products requires these types of centrifuges.
Specifications
The following table highlights the specifications of explosion-proof stainless steel centrifuges.
Centrifuge Model
Alfa Laval Stainless Steel CBPX-213-XP
Type
Self-Cleaning; Disc-Stack
Material of Bowl Construction
316 L Stainless Steel (Duplex)
Frame Material
Nodular Cast Iron
Bowl Speed
4,400 RPM
RCF (Relative Centrifugal Force)
6,800 Gs
Explosion Proof Classification
UL Class 1 Div 2 Groups C&D
IEC Zone 2 IIB T4
Rated Capacity
100 Gallons-Per-Minute
by Sanjay Prabhu MSME
Engineering Manager, Dolphin Centrifuge