Table of Contents
---
Disc stack centrifuge parts are specific to individual centrifuge models and differ between centrifuge manufacturers. Each centrifuge manufacturer has a specific centrifuge design that dictates the centrifuge parts.
Centrifuge Construction
The overall construction of most standard disc stack centrifuges is similar. They have a low-speed motor (1,800 RPM) that powers a bull gear that rotates a worm gear, increasing the spindle's speed. The spindle has the rotating bowl mounted on it.
The crucial parts in the centrifuge transmission are the gears and the high-speed bearings on the horizontal and vertical shafts.
The diagram below shows the various parts in the vertical transmission of a disc stack centrifuge.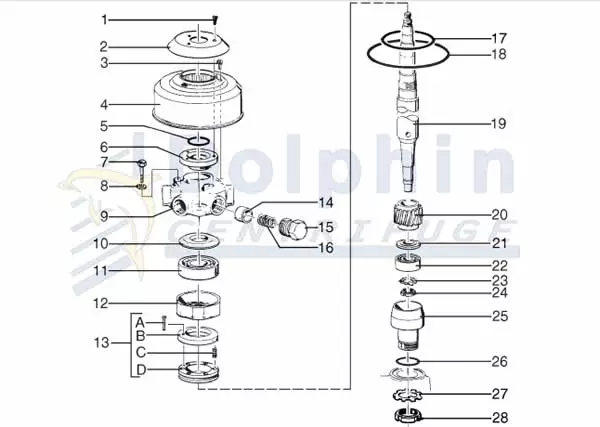 Disc Centrifuge Manufacturers
Alfa Laval and Westfalia Separator (GEA) are the predominant names in the industrial centrifuge industry. These companies have been manufacturing centrifuges for several decades.
There are other boutique manufacturers such as Veronesi, Flottweg, Seital, etc. These manufacturers are Europe-based and manufacture good quality centrifugal separators.
Some Chinese manufacturers have copied Alfa Laval, Westfalia, and other centrifuges to produce clones of these centrifugal machines.
Parts Availability
The availability of disc stack centrifuge parts is a critical factor in choosing a suitable centrifuge. Some brands of centrifuges have worldwide parts availability while others are more restricted, and some centrifuge parts are only available from the original manufacturer.
Alfa Laval
Alfa Laval centrifuge spare parts are the most widely available. This availability is due to Alfa Laval being a global centrifuge manufacturer with manufacturing facilities worldwide.
The popularity and large-scale usage of Alfa Laval centrifuges have created a market for generic parts for these centrifuges. As a result, it is pretty easy to get aftermarket parts for most Alfa Laval centrifuges worldwide.
Not all generic parts are created equal! There are generic parts manufacturers in China and other countries whose parts barely meet the minimum material or mechanical specifications requirements. On the other hand, some reputable manufacturers manufacture Alfa Laval generic parts that meet or beat OEM specifications.
We recommend high-quality parts (if not OEM) to ensure disc stack centrifuges' safe and reliable operation.
Also, Alfa Laval has parts distribution centers worldwide, making OEM parts for Alfa Laval centrifuges readily available.
Westfalia (GEA)
Westfalia (GEA) spare parts availability is much more restricted than Alfa Laval due to the manufacturer's tight control over the generic spares market. This limited availability causes the replacement parts for Westfalia disc centrifuges to be much more expensive than Alfa Laval centrifuges.
Some good quality generic spare parts for Westfalia separators are recently available, but the availability is limited to specific marine centrifuge models. Generic spare parts for food grade or other specialty centrifuges are still available only from Westfalia.
Other Manufacturers (European)
European centrifuge manufacturers other than Alfa Laval and Westfalia have a relatively more minor share of the centrifuge industry. Centrifuge manufacturers such as Flottweg, Veronesi, Seital, etc., have local representatives in certain countries, including the United States.
However, due to their limited market share, the part's availability is restricted. Often, complicated parts need to be sourced from the manufacturing plants in Europe, resulting in long lead times.
Also, the unavailability of generic centrifuge parts leads to single-source dependency and higher costs for spare parts.
Other Manufacturers (Chinese)
Chinese disc stack centrifuges are typically clones of Alfa Laval or Westfalia disc centrifuges. These manufacturers do differentiate some minor design details that make their centrifuge parts unique.
Also, since several Chinese manufacturers have different versions of centrifuge clones, the spare parts for these centrifuges are only available from the specific manufacturer. In other words, most often, spare parts for Chinese disc centrifuges are only available from the original manufacturer. This limited availability of parts makes these centrifuges undesirable to users outside of China.
OEM versus Generic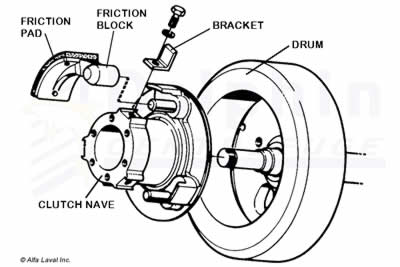 OEM Centrifuge Parts
As discussed above, though OEM parts are available for all disc centrifuges, the cost varies, and the availability of generic parts makes a disc centrifuge more attractive to prospective customers.
Centrifuge manufacturers such as Alfa Laval offer OEM parts with a global presence with short lead times. Smaller manufacturers without a significant market share tend to have limited OEM parts availability, leading to longer lead times and higher costs.
Also, it is an industry trend for OEMs to constantly tweak the centrifuge part numbers and design to keep the generic manufacturers from competing directly with the OEMs.
Generic Disc Centrifuge Parts
Generic disc stack centrifuge parts are currently only available for Alfa Laval, Mitsubishi, and Westfalia (to a limited extent) Centrifuges.
Needless to say, generic centrifuge parts offer considerable cost savings while offering high quality if procured from reputable and established suppliers.
We (Dolphin Centrifuge) offer high-quality generic parts for Alfa Laval centrifuges as well as OEM parts for Alfa Laval and Westfalia (GEA) centrifuges.
FAQ
What type of parts are in a disc stack centrifuge?
A disc stack centrifuge has mechanical parts such as shafts, gears, bearings, seals, gaskets, O-Rings, etc.
How often should a disc stack centrifuge be maintained?
Depending on the manufacturer's recommendation, a disc stack centrifuge user should change the lubricating oil every 2,000 hours or sooner. A bowl service should be done every 2-3 months, depending on the application.
What is the cost difference between OEM and generic disc stack centrifuge parts?
OEM parts for a disc stack centrifuge can be anywhere from 2 to 5 times the cost of a generic part. The cost and availability of generic parts depend on the manufacturer of the original centrifuge.
Are generic parts available for all disc stack centrifuges?
Generic or aftermarket parts are not available for all disc stack centrifuges. Popular centrifuges such as those made by Alfa Laval have many generic parts manufacturers. Generic spare parts are hard to find for other European and Chinese disc stack centrifuges.
Is it safe to use generic parts in disc stack centrifuges?
It is safe to use generic parts in disc stack centrifuges as long as the manufacturer of the generic parts is a reputed one who has strict quality and inspection procedures and is well known in the industry.
Where can I find generic parts for Alfa Laval disc stack centrifuges?
Dolphin Centrifuge is a good source for generic parts for Alfa Laval disc stack centrifuges. We stock over 2,000 generic parts for Alfa Laval disc centrifuges. We can also source hard-to-find parts for older Alfa Laval centrifuge models.
Cost Comparison
In addition to availability, the cost of replacement spare parts for centrifuges is an essential consideration during the selection process of disc stack centrifuges. In this section, we discuss the cost aspects of OEM and generic centrifuge parts.
The following table shows the estimated cost range for some typical replacement Alfa Laval disc stack centrifuge parts from the OEM and generic manufacturers.
| | | |
| --- | --- | --- |
| Alfa Laval Centrifuge Part | OEM | Generic |
| Wormwheel / Bull Gear (Small Centrifuge) | $1,850 | $350 |
| Bowl Spindle (Large Centrifuge) | $3,150 | $825 |
| Centripetal Pump / Paring Disc (Large Centrifuge) | $3,550 | $655 |
| Upper Chamber Cover (Medium Centrifuge) | $2,600 | $425 |
OEM Parts
OEM parts for disc centrifuge are often quite expensive. The main reason for this high cost is the development cost and also the lack of generic competition. Therefore, this cost factor is especially true for sole source centrifuges.
Generic Parts
The generic disc stack centrifuge parts cost depends on the original centrifuge manufacturer's proliferation and the specific centrifuge model.
Generic parts for Alfa Laval centrifuges are widely available from several manufacturers and distributors. Centrifuge parts for sanitary centrifuges or custom-made centrifuges are only available from Alfa Laval.
The typical cost for a good-quality generic part is less than 50% of a new OEM part. The cost savings for wear items such as seals, O-Rings, Gaskets, etc., is even higher with generic parts.